DIY Rock sliders plans are very useful for vehicles, help with protection and support, and offer a convenient platform for entering the vehicle. Rock sliders are mainly designed to protect the sheet metal of door sills, quarter panels, or fenders on your vehicle from being damaged when you drive over rocks and logs or sometimes off-roading. If you're fond of traveling to hill stations and other camping sites and curious about the lower surface of your vehicle, then you must need a firm functional DIY rock slider to be installed.
If you have ever taken your car off the road or out on trails, you know the risk of getting it messed up by a rock. You could go with something like a skid plate to save your parts, but that is less stylish and more complicated to install. Rock sliders attach right to your vehicle's frame and will be a much simpler and easier way to protect your vehicle. Here we have gathered some impressive DIY rock slider plans to help you in this regard and to add some functional additions to your vehicles with minimal effort.
DIY Rock Sliders Plans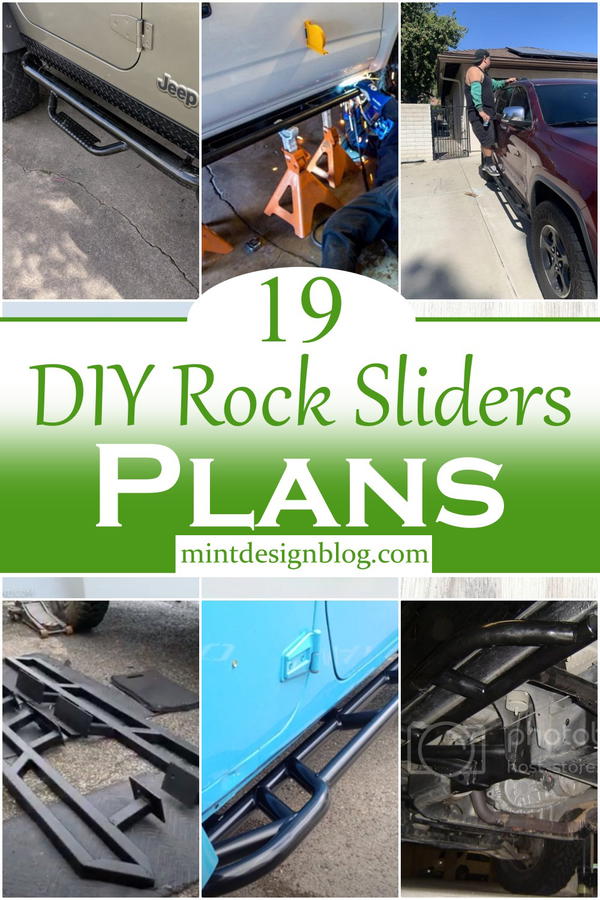 If you are looking for a way to protect your vehicle from body damage, then consider installing rock sliders on your vehicle. These sliders attach to your vehicle's main chassis or frame and protect it from getting damaged when driving over rocks, boulders, stumps, etc. However, DIY rock sliders plans started as simple blocks of relatively flat metal, and their designs have evolved into several variations from simple tubes to elaborate contoured monstrosities. Of course, the basic principle is still the same for each design: to protect the vehicle from damage by rocks and other debris.
DIY Rock Sliders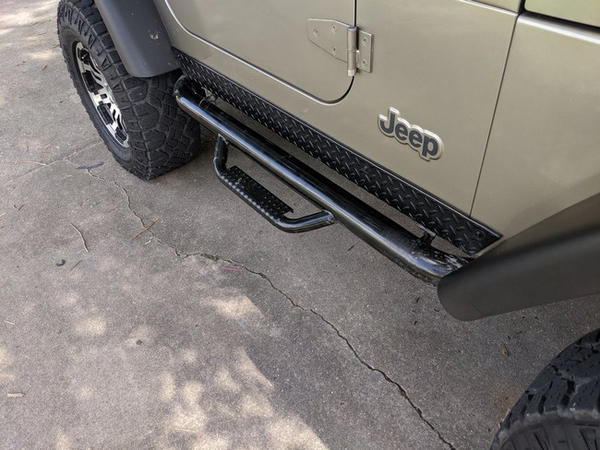 Building your DIY rock slider could be a great pastime activity that brings you fun and happiness. Made with high-quality JK Materials, you can be assured that our rock slider is durable and manly in design. The design of this rock slider project can deliver great performance even if it's made from unfinished materials. This project combines the axle stands from two steel pipes with high strength, plus on each end attached with the angle iron bar. Due to this structure that facilitates the solidness and durability, there is no need for extra welding or assembling of these components.
DIY Rock Sliders
If you understand how to adapt the slider, you'll be able to use it for any vehicle. You need to have the necessary tools and materials to get started. You will also have to check the dimension of your vehicle from the tire-to-tire distance. After that, you'll need a ruler, a sheet of paper, and some metal rectangles. The rock slider is the addition most likely to protect your vehicle from dents and scratches, especially when driving around rocks. This design will work for vehicles up to twenty-five feet, smaller than twenty-six feet. The next step is mounting the rock sliders onto the vehicle.
How To Build Rock Sliders
In this video, we will be analyzing the steps for making rock sliders. First, take an accurate measurement of the base of your vehicle. The measurement will simplify and perfect your cutting. Simply cut it with a hack saw once you have concluded how much you need. If you are planning to put on a slider that will be permanent, it's recommended that you weld it onto the frame. It is stronger, more reliable, and requires less maintenance. This rock slider adds to your rig's overall look and design.
DIY Rock Sliders Build
Rock sliders are often the first step in building a rock crawling vehicle. They give extra protection in the event of a body roll while on the rocks. You can make your rock slider simply by stopping at the local hardware store and purchasing square tubing with just a few basic tools. Once you have your materials gathered, it's just a matter of drilling holes and attaching the tubing to your vehicle's frame. These sliders are made from steel tubes at their base and have a flat plate layer that provides an attachment for your stock or custom bumper or whatever aftermarket you want to attach to it for greater fuel protection.
How To Add Simple Steps To Rock Sliders
Do you want some additional steps on your rock slider? This video tutorial will learn how to cut and create simple steps that can add more versatility to your wheeling experience. They allow you to climb rock faces that otherwise might be insurmountable, but sometimes they come with a price. Without a step, climbing them can be uncomfortable or downright dangerous. However, a simple way is to modify an existing pattern into something different and functional. The steps in this guide will be a good removable step with no center support, but hopefully, you'll find this rock slider idea very useful.
DIY Rock Sliders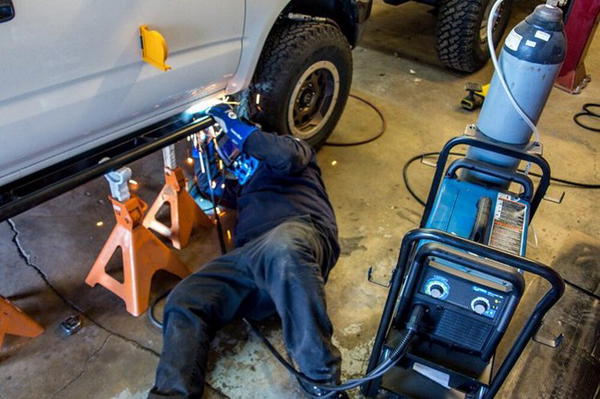 If you are a fan of off-road challenges and wish to follow your passion, you must consider using Tacoma as the medium to achieve this preferred end. You can get the Tacoma ride height lifted with some lift kits. This modification will add more power and stability to the truck. The easiest way to install a rock slider is by using your permanent jacks as a supporting structure. You can make it yourself with some knowledge of welding and metal mounting techniques. Wall box tubing is used for its strength and durability in the installation.
How To Build Rock Sliders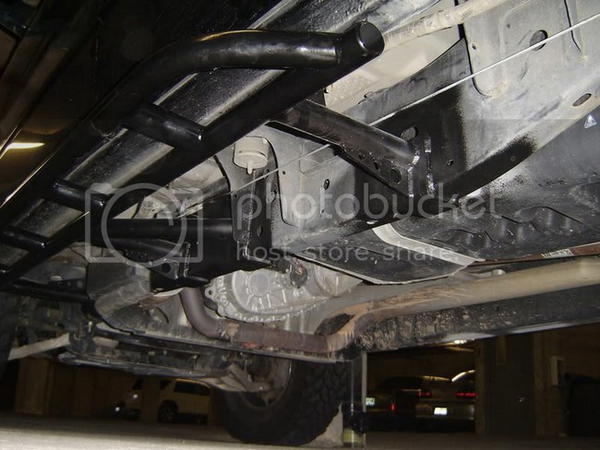 Rock Sliders are a vital part of any off-roading activity or sport. The main purpose of rock sliders is to protect the vehicle from tipping when it goes up and down obstacles. They help protect your vehicle's underbelly and give you a nice set of steps to reach the ground. It also protects the bodywork by giving off a double defense mechanism by protecting it from both underneath and the side. A rock slider must be made from a sturdy and reinforced material that can withstand any impact, especially on rocks.
DIY Rock Sliders Under $250
Say no to cookie-cutter rock sliders available in the market, and say yes to making your rock slider. The first thing that you need is a rectangular tubing frame. This can be easily made from a side step bar or flat bar. Next are the components for the frame, which include the framework and template. A total of four nuts and bolts are required in the form of two washers, a bolt, and another washer. First, you will need to gather flat bar and rectangular tubing materials, which can be purchased at any local hardware store. Second, you must know how much you plan on investing beforehand. After this, you can begin building your rock slider yourself.
Rock Sliders DIY
Your Rock Crawler can take a bite once in a while if it's on the rocks. You should have a sturdy rock slider and your rock crawler. It will protect your body from injuries by impact from the rough terrain and also serve as a protective layer between your truck and the harsh obstacles. Making this given rock slider idea is quite easy; you have to follow the steps. This process includes several things you need to consider in detail, like securing the inner frame with clamps and grinding spaces between them so they can be welded together. Attaching the metal tubes and cutting them into affordable sizes, painting them black so they'll blend well with your rockers, etc. Then it is time for mounting the outer side panels of rock sliders.
Toyota Hilux Rock Sliders DIY
Installing rock sliders on your Toyota Hilux is a fantastic way to make the vehicle more capable off-road. Rock sliders are used to protect the sills when driving over unstable terrain and may have the bonus of protecting the underside of your vehicle if you do manage to tip it on its side while driving. This video will show you how to make a pair of rock sliders for a Toyota Hilux without using a pipe bender or pipe notcher. We cut the metal pipe into pieces and welded them together. You can do it also.
DIY Rock Slider And Scrub Rails
Building your rock slider and scrub rail will save you money. It also gives you the chance to customize it to fit your vehicle and taste. Sliders and scrub rails can be made from simple steel tubes, flat bars, and I-clamps. For making a rock slider, cut the tubing into two equal lengths for the slider rails. The inner tube of a bicycle tire works well for cutting this material. You can make longer sliders by using thinner tubing (the outer tube of the bike tire works well). Use a torch or welder to cut the tubing, then sandpaper to smooth any rough edges or burrs.
How To Build Easy DIY Rock Sliders
Rock sliders are an important part of a vehicle, and it would be better to have one on the side to prevent it from being scratched or hit by any obstacle if you have a trail ride. To make rock sliders, you will need some basic tools. If the frame and undercarriage of the vehicle are intact, building a pair of rock sliders is relatively easy. The basic tools you will need are a shaft bender, which enables you to bend tubing to specific angles and lengths; a tube cutter for cutting the tubing; a welder for attaching it to the frame underneath the vehicle; and a measuring tape for marking locations on the frame.
How To DIY Rock Sliders
First, you need to cut the metal rods to fit the brackets, and the brackets will attach to the vehicle. Remember that when cutting your rod, make sure that it is long enough that when mounted in the brackets, it covers each side of the vehicle. Next, take out your welder and weld the bracket-rod combination into place. Now screw all of your brackets down to hold them in place. This project can cost as little as one hundred dollars, depending on how far you would like to go. Enjoy your brand new rock slider once this relatively simple process is over.
DIY Custom Rock Sliders
DIY Custom Rock Sliders are a great modification to install on your vehicle if you have a high risk of hitting rocks or getting stuck. They are also a good add-on for an expedition vehicle that spends most of its time off-road. The rock slider will attach using brackets to avoid interfering with the vehicle's operation. This
DIY custom rock
slider is a quick and easy custom fabrication that will stiffen the lower frame of the vehicle, offer better support to the rear differential, and protect the lower body panels.
DIY Wrangler Jeep Rock Slider
The DIY Wrangler Jeep Rock Slider is easy to install. It comes as one long piece with a bracket and a curved metal rod. The bars are evenly spaced to ensure that your new rock slider does not bend or give way when put under load. These rock sliders are assembled with a combination of flat and tubular square steel and bolt onto existing rock rails of the Jeep Wrangler JK. The steps you have to take to install a pair of these rock sliders are easy.
How To Build Rock Sliders
Rock sliders are used by those who wish to explore the world of rock crawling. It's a simple accessory that will help your Sportage move around with ease when climbing rocks. Rock crawling is a sport that involves driving 4-wheeled vehicles over rocky terrain, and unlike dirt crawling, it also involves high speeds and risky maneuvers. This article will provide you with the necessary techniques for building rock sliders for your car. There are many benefits to building rock sliders. First, they look great when you approach a difficult obstacle, and they give your tires an outcome they can roll over without fear of getting stuck in the rocks. They are affordable to fabricate, sturdy, and durable.
How To Make A Simple Set Of Rock Sliders
A simple slide to keep your truck bed paint. Rock Sliders are a valuable addition to the serious off-road rider. The rock slider is a vital protection system against a door dinging and sliding on rocks. There are many different methods to make a simple set of rock sliders. Each method has its advantages and disadvantages, but the fundamentals remain the same. They may not be as aesthetically pleasing as a bumper, but they're better than nothing if you need to get out of a tight spot or prevent damage from rocks.
DIY Rock Sliders
The DIY Rock slider is the easiest rock slider idea on the internet. This rock slider can easily handle the toughest trails, and fitment is effortless. The unique tube design with integrated bumper overrides allows these sliders to accomplish what other rock slider kits can't, protecting every part of your vehicle from rocks and other trail hazards. The no-drill design makes installing this rock slider a breeze. Forget about bolting your vehicle to the ground and make it climb over rocks instead!
How To Make Homemade Rock Sliders For 4x4
How to make homemade rock sliders for 4x4. This How-to guide will show you how to build rock sliders from a kit of pre-cut metal and a flat bar. You will measure, cut, bend and weld the metal in this article because it is easier to do than you might think. Given Rock sliders will protect your truck or vehicle when crawling on the rocks. This will teach you the whole process of creating a super useful homemade slider idea from start to finish.