Whether you're looking for a backpack for school, work, or the gym, making your own is a great way to customize it to fit your needs. You can make your backpack in any size, shape, and style you like. Use thick, rugged fabric for an outdoorsy look, or keep it simple with lightweight cotton. These DIY backpack ideas are easy to make and come in all different styles. With so many designs to choose from, you'll have the perfect backpack no matter what your needs are. DIY backpacks can be made from all kinds of fabrics. Backpack fabric is a typically heavier weight than regular quilting cotton, but you can use whatever type of fabric you like. The only limitation is that it should be sturdy enough to carry heavy things.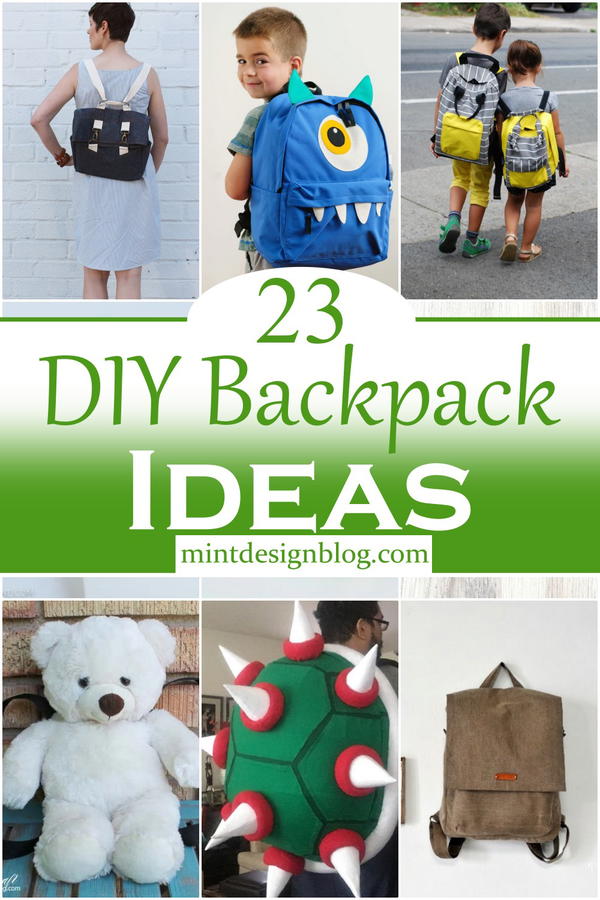 You can choose to use oilcloth because it's durable and waterproof, making it great for school kids or when traveling through inclement weather. Other options include leather, faux leather (which is thinner), canvas, and even upcycled clothing like jeans or T-shirts. Whatever you choose, make sure the material is sturdy enough to carry heavy things without tearing. If you're handy with a sewing machine and love to create one-of-a-kind pieces of gear, you'll love these DIY Backpack Ideas.
These 23 DIY Backpack projects are perfect for making your own handmade backpack and you can customize it to make it in whatever color, style, and size you desire.
MATERIALS NEEDED:
You will need the following materials:
Fabric
Canvas or Denim (for the base)
Pins
Scissors
Sewing Machine or Hand Sewing Kit (Needles, Thread, etc.)
How To Make A Backpack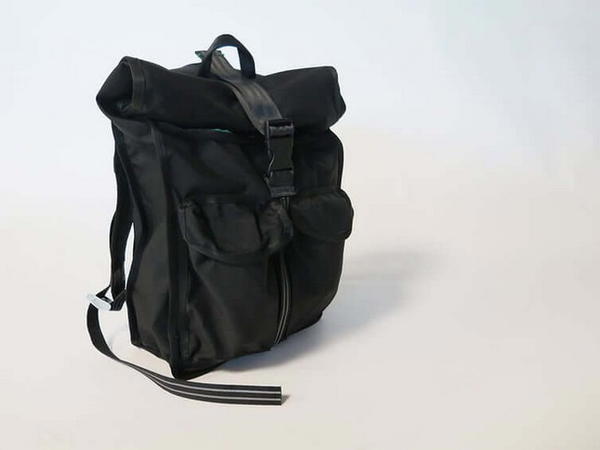 Make a backpack for school, work, or travel using the steps in this DIY guide. With clear instructions and photos, anyone can make their own pack. It's easier than you think! You can create a sturdy and stylish backpack for school, travel, or for carrying your gear. This backpack design has a lot of interior pockets to help organize your belongings, but it's also easy to alter this design based on your needs. You could add extra pockets, remove the back pocket, or lengthen or shorten the straps — you are only limited by your imagination!
SKILL LEVEL: ADVANCED
DIY Kids Backpacks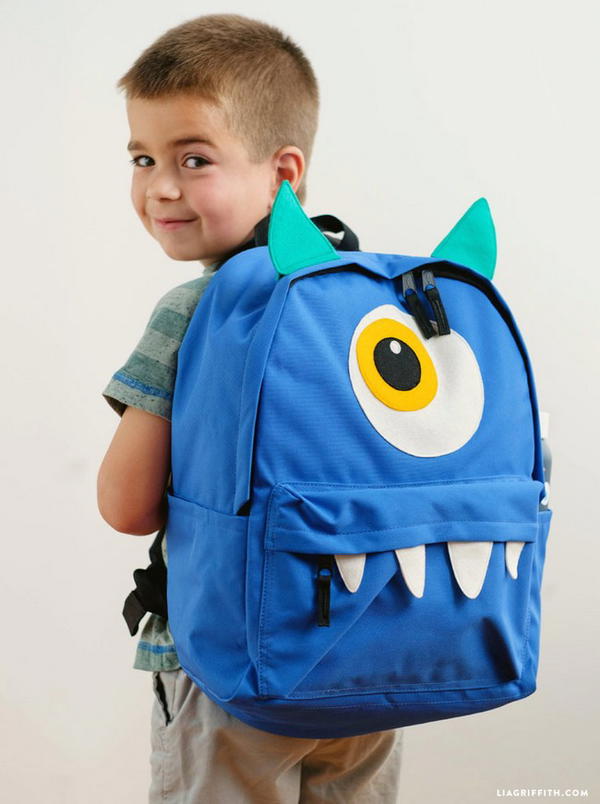 Decorate the kid's backpacks using washi tape, iron-on patches, and other craft supplies to add hints of summer fun to their new school accessory. With these easy updates, kids can show their personalities and be ready for a new year of learning. With back-to-school season approaching, it's time to get your child's backpack organized and ready for the year. There are many ways to add a personal touch, but this DIY project is easy and fun for the whole family.
SKILL LEVEL: ADVANCED
My Little Kitty Backpack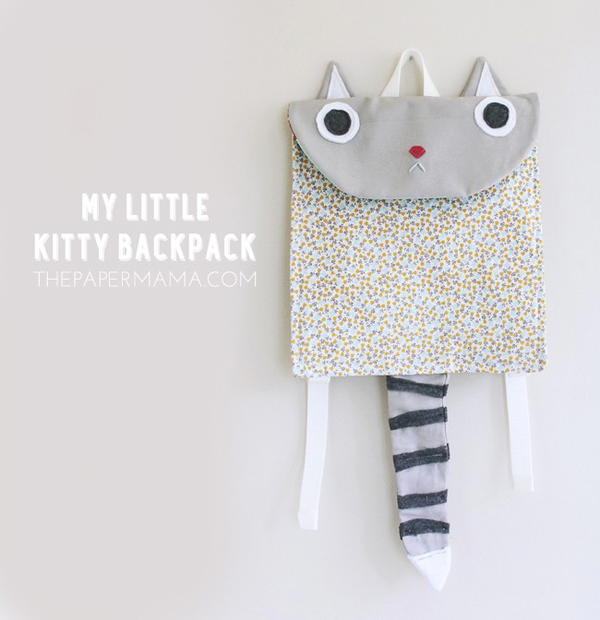 Looking for an easy sewing project for a preschooler? This My Little Kitty Backpack DIY is great for little girls (and maybe raccoons)! Keep your cat cravings at bay with this chic black backpack offering a charming, TIt is fun little backpack perfect for little girls who love kitties. This backpack is the perfect size for preschoolers and toddlers. Great for walking to school, a quick weekend trip, or even a slumber party. This is a great project to do with recycled supplies, and even if the end result isn't perfect, kids love it!
SKILL LEVEL: EASY
DIY Polka Dot Backpack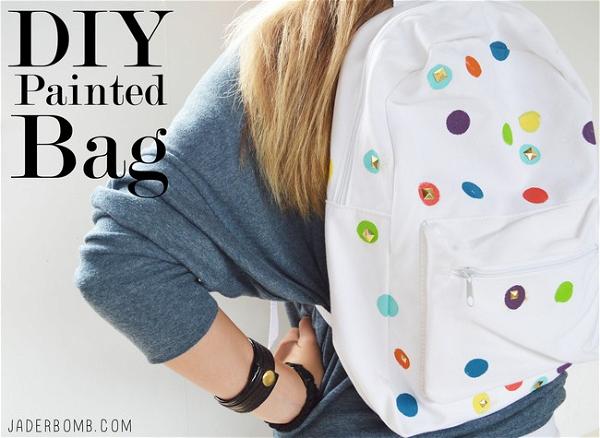 Be your own artist by designing and creating your polka dots! This chic, speckled bag is a fun and simple statement piece. Use cardstock or watercolor paper to avoid the paints from leaking through the canvas. The polka dot backpack is simple and classy in its way. All you need for this is a white canvas bag with lovely colors. The amazing part is that you could personalize it to match your personality. It is simple to make and you can customize it with your favorite colors. A little bit of modern art, this functional fashion piece will be your go-to every day.
SKILL LEVEL: EASY
DIY Denim Backpack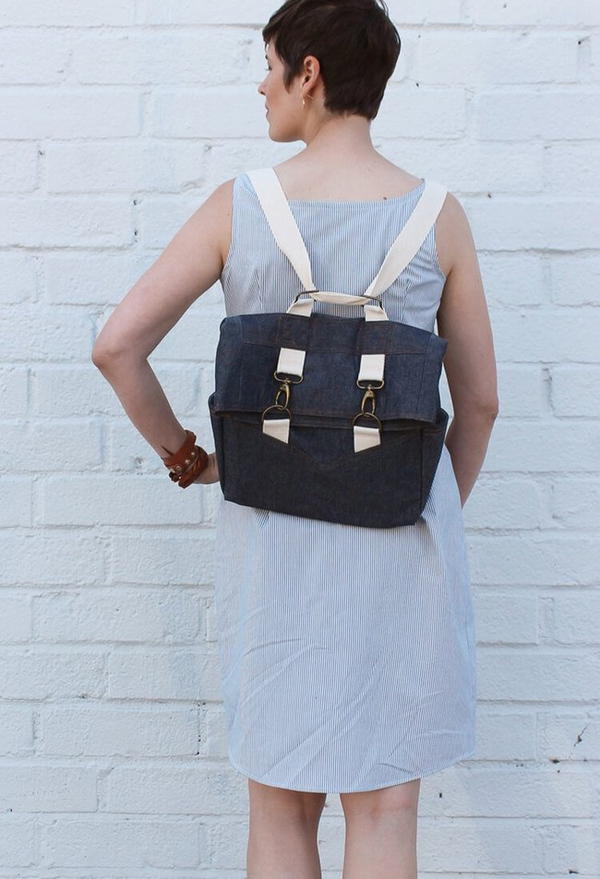 This tutorial is great for those who love to repurpose old clothes and create something new. Denim is perfect for luggage and bags, and this tutorial is the perfect way to create a unique backpack with the denim you already own. It includes a side pocket, lots of room for storage, and is easily made with an old pair of jeans. This is great as a school bag, travel backpack, book bag, or diaper bag. You can use it as a travel wallet and put it in your luggage so you don't lose anything.
SKILL LEVEL: ADVANCED
DIY Mini Backpack
Are looking for a bag that's both cute and functional? This DIY Mini backpack tutorial will teach you how to make your own mini backpack that is perfect for school, the office, and everyday wear. Since this mini backpack comes with a good amount of space for books and other belongings, it is a perfect fit for little kids. Even parents find it convenient to hold onto the backpack instead of holding the kid's hand all the time. Thanks to its incredible versatility and mobility, this mini backpack can be used for vacations or even as a dress-up accessory. So, go for it now.
SKILL LEVEL: ADVANCED
DIY Toddler Backpack
This DIY Toddler Backpack tutorial is for you if you're looking for a simple sewing project and want to make your own backpack for your kids. This DIY bookbag for toddlers is quick, easy, and makes the perfect gift! It's not too big and not too small! It comes with just the right amount of pockets a front pocket, two front side pockets, a large back pocket, and even a top clip to help keep everything in place. It's easy to customize the outer fabric and size of this backpack based on the recipient's personality or needs.
SKILL LEVEL: ADVANCED
DIY Teddy Bear Backpack
If you love sewing and teddy bears, then this DIY Teddy Bear Backpack is a perfect project for you. This tutorial will show you how to transform an old teddy bear into a useful backpack for your loved ones. Not only are these backpacks adorable, but they're also very comfortable to wear thanks to the soft fabric and cushioned straps. You'll turn heads on your next trip to the park. Get your teddy bear ready for its close-up with this super-cute DIY teddy bear backpack. Using just a handful of materials and an old teddy, you'll be able to create something your kids will cherish forever.
SKILL LEVEL: ADVANCED
DIY 3-Pocket Backpack
The 3-Pocket Backpack sewing tutorial is great for beginners and advanced sewists alike. Follow along with the simple step-by-step photo instructions to make your own backpack in two sizes! Carry this bag as a cute purse, or if you prefer a little more storage, you can even add optional padding and an extra side pocket to carry all of your daily essentials. Customize it by adding contrast topstitching and adjustable straps. Perfect for everyday wear, lugging books to school, or hitting the gym, this backpack will be your go-to bag!
SKILL LEVEL: EASY
 How To Make A Pretty Backpack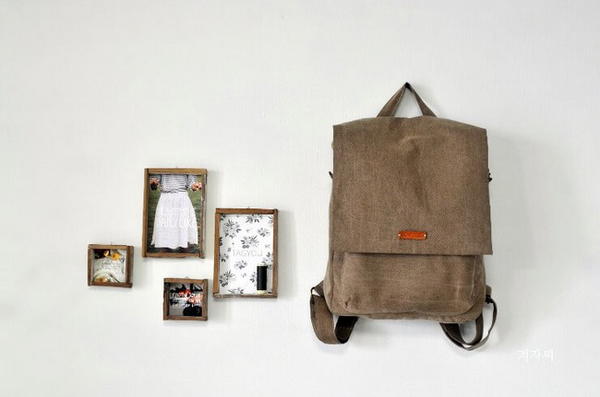 Backpacks are fantastic as they are very functional, and if you make them yourself, you can use your favorite fabrics and create something that is absolutely unique. You can also create a special backpack for someone else! Making your own backpack doesn't require a great deal of skill and most of the backpacks you see here can be made by those with basic sewing skills. This craft project does not take so much time and trouble, but your daughter will be delighted with her new backpack.
SKILL LEVEL: EASY
DIY Mini Backpack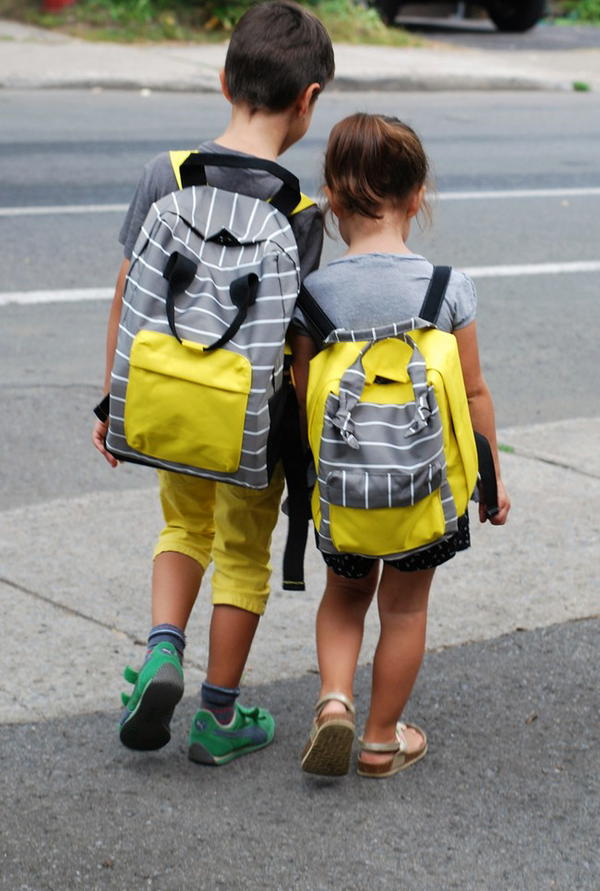 Do you have a little one who needs to carry their own stuff? This DIY Backpack tutorial is the perfect sewing project for kids. It's easy enough for beginners, but fun for a more experienced sewist to make. It is the perfect size for a quick trip to the playground or to store a change of clothes for pre-school. The durable exterior will stand up to the wear and tear of the playground. The large front pocket will hold all your child's little treasures, while two interior pockets are perfect for stashing toys and snacks.
SKILL LEVEL: ADVANCED
Hand Stitched Leather Backpack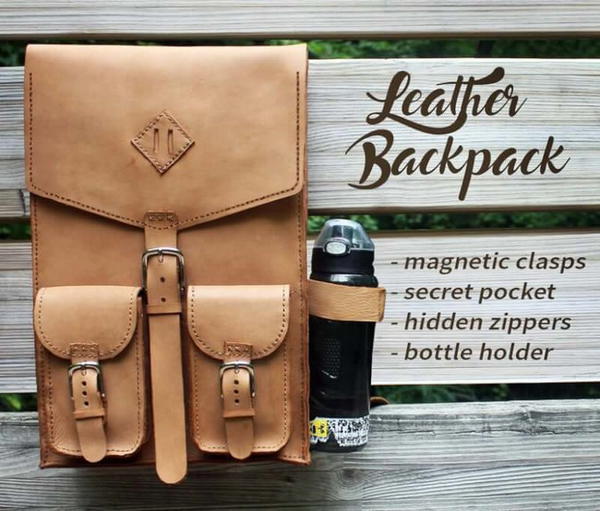 This hand-stitched backpack is built to last. It features 6 pockets, a wide strap, and durable vegetable-tanned leather. To create it, the maker used a needle and waxed thread to sew together an entire side of the leather. This backpack will be your best friend for years to come - use it to carry books to school or use it as your daily commuter back. o create it, the maker used a needle and waxed thread to sew together an entire side of the leather. This backpack will be your best friend for years to come - use it to carry books to school or use it as your daily commuter back.
SKILL LEVEL: EASY
How To Make A Super Mario Backpack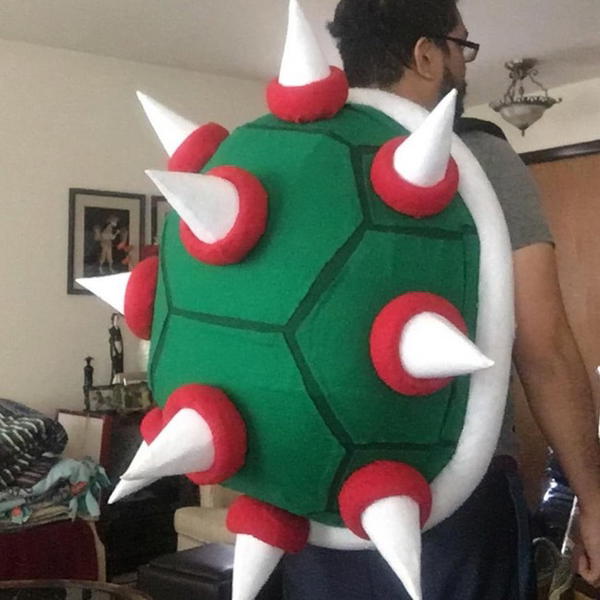 This backpack is a fun and useful gift. Measure the size of your backpack - it should be from the back of your neck to your waistline. Take the measurement and transfer it onto a piece of paper and fold it in half. Measure where you want the top of your backpack to be, as well as how long you want the top flap to be by tracing the outline of the front side of your backpack onto the paper The little touches, like having "Mario" embroidered on the pull tab of the zipper, give it a charming and unique quality.
SKILL LEVEL: ADVANCED
How To Make A Backpack
This backpack pattern is an easy size but can be enlarged or reduced as needed. It has two outer pockets and one inside pocket. The outside pockets are extra deep to fit lots of items. This can be a great backpack for work, school, or whatever you need it for. More tools needed are a seam ripper, iron, rotary compass cutter, tailor's chalk, and measuring tape. After all the necessary parts have been cut and assembled together using a sewing machine, you now proceed to attach them to the main body part. You can handle this yourself or get another person to do it for you.
SKILL LEVEL: EASY
DIY Foldover Top Backpack
DIY Foldover Top Backpack for beginners is the perfect way to try your hand at a new project! Made of water-repellent canvas, this stylish backpack is the perfect carrying companion. Soft, microfiber lining protects your phone and tablet, while a foldover top and button-snap closure keep them secure. You will need to provide the thread and padding required to complete the bag. A great gift, this one-time mystery kit is sure to leave you wanting more! Go ahead and spoil yourself with a DIY project today.
SKILL LEVEL: EASY
How To Sew Backpack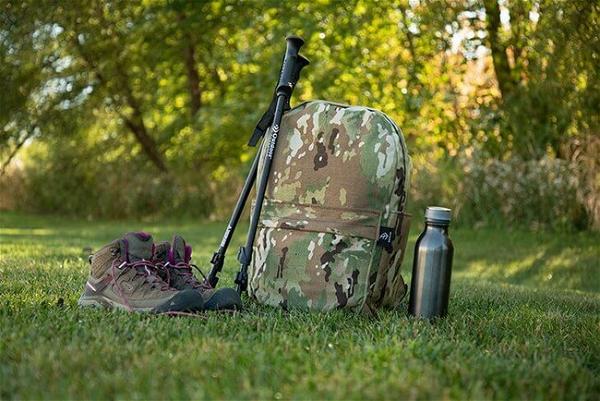 This backpack sewing pattern is perfect for beginners. You'll learn how to sew a backpack that can be used as a school bag, diaper bag, or hiking and camping rucksack. The finished bag has several zippered pockets and straps to hold an umbrella, yoga mat, or picnic blanket. The tutorial gives you all the info you need to customize the size of your backpack, strap length, and fabric options too. It's perfect for a beginner sewist looking to make her first bag with clear and concise directions.
SKILL LEVEL: EASY
DIY Drawstring Backpack
This DIY drawstring backpack shows the fun and stylish use of quilt-weight cotton fabric. Make your own drawstring backpack as a fun project with this step-by-step tutorial. Using quilt-weight cotton fabric, this drawstring backpack is lined and has a perfect finish. Designed to be versatile with many uses, it can be worn as a backpack or slung over one shoulder. Make this versatile DIY drawstring backpack for weekend trips or as a great gift. This beautiful bag is all about attracting attention. And the quality, durability, and functionality make it all worthwhile!
SKILL LEVEL: EASY
How To Sew A Backpack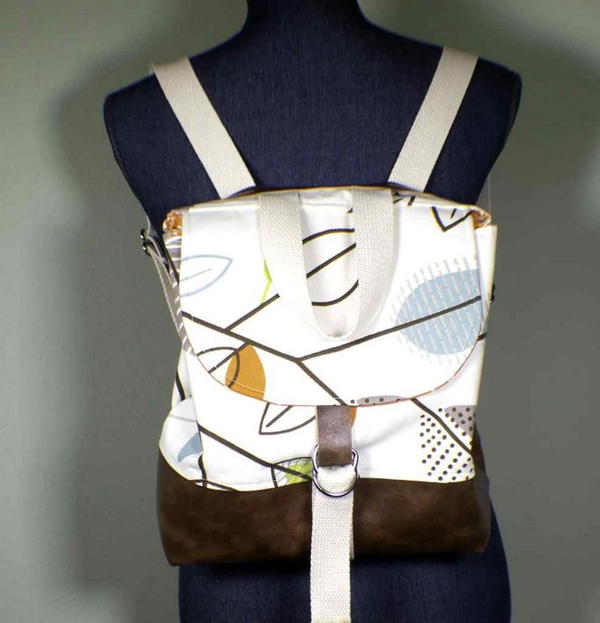 A backpack purse is a good bag for shopping or for the beach. You can even make one for your son as a school bag. Sewing a backpack purse is easier on you when you follow this tutorial step by step. It shows you how to create an awesome backpack purse using some basic sewing supplies and a few elegant touches! This can be made with tons of different types of fabrics, so feel free to customize it. It is the perfect bag for everyday use and fits nicely in the hand or over the shoulder as a backpack.
SKILL LEVEL: EASY
DIY Backpack
Design it yourself with this DIY backpack tutorial! Made of synthetic leather and with a 1cm allowance on each seam, it's a perfect beginner's craft or a great gift for people who sew. If you want to create a backpack and can't find any easy tutorials, here is a simple tutorial for you to try. In this video the creator uses synthetic leather of 104cmx50cm, all sewn allowance is just 1cm and the seams are done on a sewing machine. The most difficult part is to take precise measures and cut accordingly. This might take some time depending on your skills with measurements and sewing, but it's definitely worth it!
SKILL LEVEL: ADVANCED
Best Design Backpack DIY
This is a DIY video showing you how to make a backpack. If you are looking for a simple, elegant backpack, this video is just for you. Backpacks for work where you are on your feet all day and need something that you can quickly have accessible by simply taking off your backpack and placing it on the ground. They are a safe way to transport your belongings, and there is nothing left behind from a forgotten bag. It's a useful tutorial if you want to save money and decorate the bag as your like.
SKILL LEVEL: ADVANCED
DIY Cardboard Backpack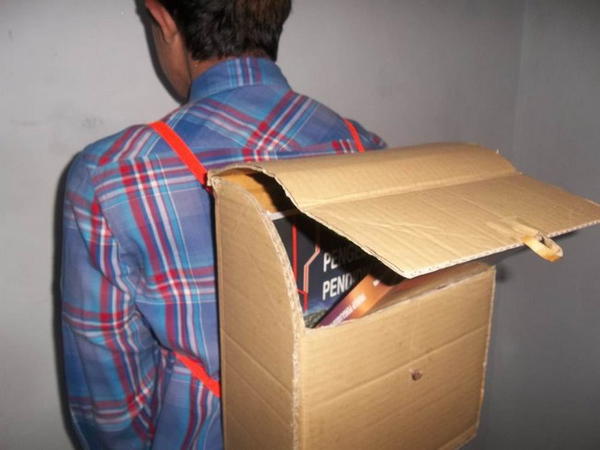 This do-it-yourself cardboard backpack tutorial shows you how to make a backpack out of cardboard. From fancy and colorful designs to basic utilitarian shapes, this easy step-by-step tutorial will show you how to make a high-quality cardboard backpack. Making your own backpack from cardboard is easy. It is inexpensive, and you can fit it to your size and the number of supplies you wish to carry. This may be handy in an emergency, or for role-players who dress up at festivals, such as Renaissance Faires or pow-wows. The DIY backpack can be made in any size to fit any person, from children to adults.
SKILL LEVEL: EASY
DIY Backpacks For Back To School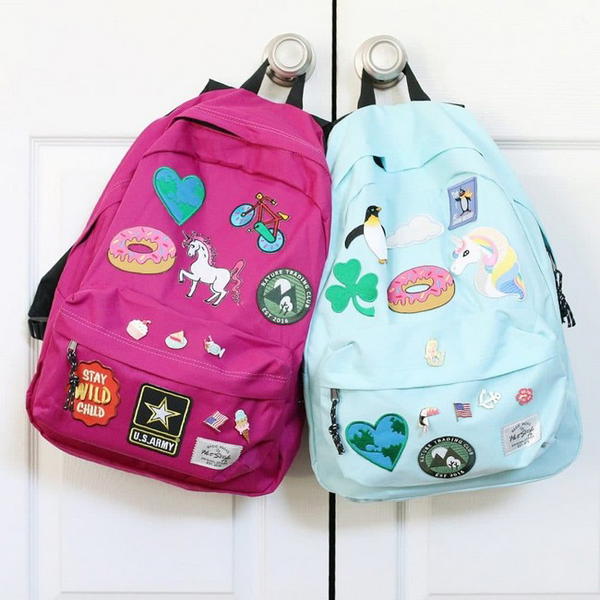 With the end of summer comes back to school shopping, and while it's important that your child has all the necessary items, it can be fun to add a handmade touch too! Personalize your child's backpack in a fun and easy way with these DIY backpacks! As the school year quickly approaches, take some time to decorate your child's backpack in a cute and creative way that ensures easy portability on the playground or in the classroom. Your child will just love being able to show off their new and personalized backpack before they go back to school!
SKILL LEVEL: EASY
DIY Backpack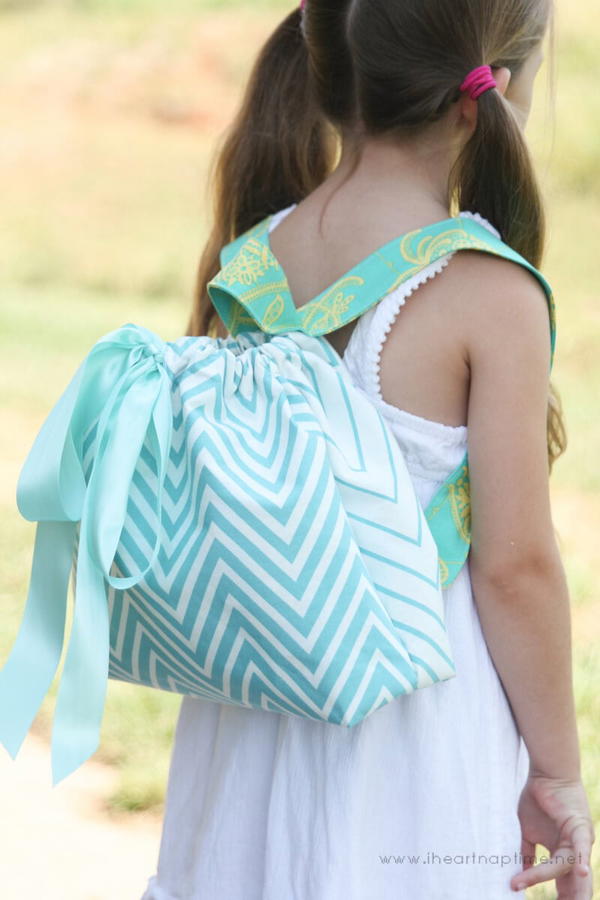 Make a backpack using this free sewing pattern and tutorial. Your favorite feature of this easy sewing project is the ability to sew in personal accessories for your kids. Add their name, colors, or initials to make it one of a kind!" A perfect back-to-school sewing project, this backpack can be completed in just a few hours. With a few helpful tips and tricks, you will have this completed in no time at all. This DIY Backpack Pattern is simple and perfect for any beginner seamstress!
SKILL LEVEL: EASY
CONCLUSION:
Stylish and practical, these DIY backpacks are perfect for school and beyond. When it comes to school, there are just about three things that can make or break the day. One of those things is your backpack. When you carry the bag that makes a statement, it can sometimes be like your ice-breaker, and sometimes your confidence boost. It all depends on what style you carry for the day. So why not spice up your back-to-school look with these 23 DIY Backpack ideas? Show off your personality, and have some fun this year with these stylish DIYs.