Canopy beds are some of the bedroom's most beautiful and romantic furniture. The sheer curtains that hang down from the top of the canopy bed frame make it look like a scene from a fairytale. There are many different styles of canopy beds, but they all follow the same basic principle: they have an extra-tall headboard attached to the four corners of a bed, with fabric that hangs down to create either a canopy or half-height walls on all four sides. Here are 14 DIY canopy bed ideas that show how easy it can be to build your own canopy bed and get everything you want out of it without paying hundreds or thousands of dollars.
Homemade DIY Canopy Bed Ideas

Build your unique canopy bed and create a cozy, beautiful, fun space. When the weather warms up, you can't wait to kick off those blankets and let the sunshine on your skin. But before you move, look up—your new canopy bed will warm your room while providing a relaxing retreat. In this post, we've compiled 14 of our favorite DIY canopy beds for you to make yourself. Add a touch of elegance to your bedroom with these DIY canopy bed ideas. Canopy beds can easily create drama and luxury in your bedroom without breaking the bank.
Benefits Of DIY Canopy Bed Ideas
Here are some benefits of making your own DIY canopy:
You can make it fit your style better than on the market today.
It's easy for beginners with basic sewing skills to create their own DIY canopy.
You don't have to worry about purchasing expensive hardware or finding room for extra furniture that doesn't fit into your space.
DIY Canopy Ideas
DIY canopy bed ideas are simple yet stylish details to add a little pizazz to any bedroom. Even if you aren't the most skilled craftsperson, making your own canopy bed is achievable and worth a try! This crown canopy bed is so elegant and luxurious that you could almost envision yourself in a castle. It's not too difficult to look like royalty with this DIY canopy bed project; make sure to include some stylish storage options underneath the bed.
How To Make A Canopy Bed
Canopy beds are like furniture that decorate the bedroom, especially for those who want to give the impression in their bedroom with this bed. It has a fascinating white bed with modern fabric and elegant design, perfect for those who want to decorate the bedroom with a unique concept. Learn how to make a beautiful canopy bed with these detailed instructions and diagrams. The project will create an elegant look without a lot of hassle. You can construct this piece with the right tools and materials, or you might rent some if you don't have them on hand.
DIY Pottery Barn Dupe Canopy Bed
This DIY-friendly canopy bed is a Pottery Barn dupe that you can easily build yourself. It's straightforward to create the illusion of a custom canopy bed by building a frame and decorating the top. Learn how to build a canopy bed in no time at all! This pottery barn dupe canopy bed is super simple to make and is the perfect addition to any bedroom. You can't beat the price tag of this DIY canopy bed! The instructions are easy to follow, and it only takes two people two hours to build.
DIY Canopy Bed
Add instant charm to any room with this charming bed canopy. This DIY project is perfect for any child's bedroom and has been designed to make it easy for you, even if you're a novice. The canopy bed is an important part of the bedroom. This modern yet historic style bed will make any room pop with character. The frame is made from pine wood that has been hand sanded, stained and sealed. This easy DIY canopy bed creates a tiny instant retreat while adding style and character to any space.
King Canopy Bed Frame DIY
This king canopy bed frame is a great bedroom addition for any home. The subtle curves and wrought iron accents create an organic look. Create a beautiful canopy bed frame with this DIY Canopy Bed Frame tutorial! With economical materials, the results are far from cheap. This King canopy bed frame is easy to assemble and only requires a screwdriver. A king-size bed frame is large enough for even taller people to stretch out on, and this design gives some good extra length. Make a custom look in your bedroom by choosing your own fabric, colors, and coverings. This simple project can be part of a larger DIY room makeover!
Bed Canopy
Take your bedroom decor to a whole new level with this canopy DIY bed. Head to housetohome.co.uk to find out how easy it is to make one yourself and get inspired by our pick of the best shops and designers for your craft ideas. The canopy bed creates a warm and romantic space for your bedroom. Add a little feminine flair with a sheer curtain draped from the ceiling. It's easy to make, affordable and will last a long time. The whole project takes about an hour and costs about $50
DIY Tent Canopy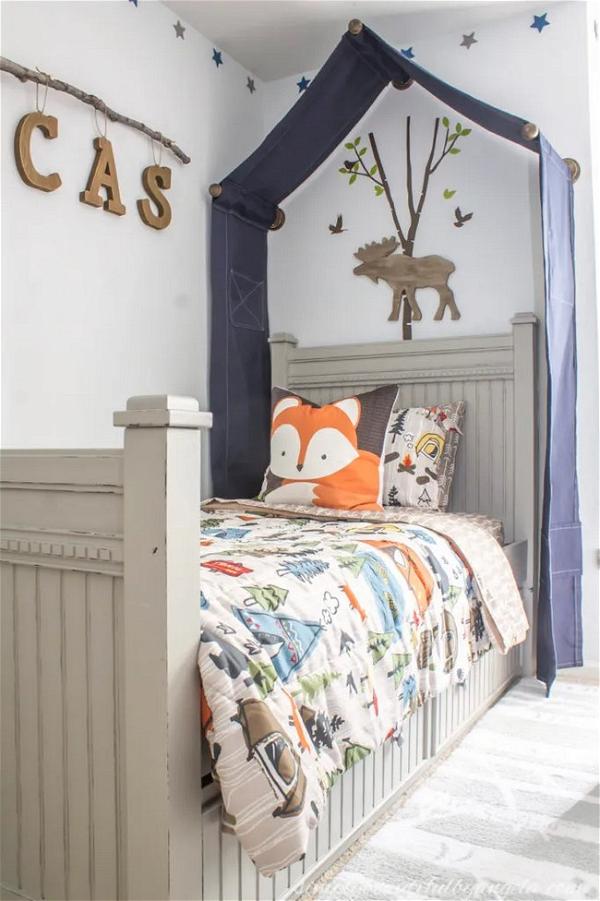 Make your very own canopy bed. You don't need to be experienced with DIY projects, follow this simple step-by-step guide and build your new bed in minutes. The canopy tent gives a room a romantic look, making it feel like a little piece of heaven. It also offers privacy and allows you to have natural lighting throughout the day. This canopy is easy to assemble and store away when not in use. This DIY tent canopy is a fun and easy project that will add instant personality to your bedroom (and let's face it, who doesn't need a little more personality in their life?).
DIY Reading Canopy In One Afternoon
Reading can be a relaxing activity, but it can also be a tiring one. I'm sure when you sit down to read to relax, there are times when your arm gets tired from holding the book up, and it keeps falling on you. So if you have decided to add a canopy bed to your home, then the perfect thing to do is make this reading canopy in one afternoon so that you don't have to get up every few minutes! This easy-to-build canopy bed makes a fun project. It's designed for use in any house room but is especially useful in your bedroom as a reading nook or extra seating. The basic version uses only three boards and a few screws to create an elegant design that is sturdy yet lightweight.
You can also see: Easy DIY Kids Bed Ideas
DIY Dorm Bed Canopy Project
If you are looking for a fun and easy dorm project, try making a canopy bed. Even though this project is simple and inexpensive, it is not just a piece of furniture; it's an art sculpture. Students love these beds because they are creative, beautiful and comfortable! This DIY bed canopy is the perfect project for any dorm room. It provides a cozy, private space with the bonus of being easy on the budget. The project costs around $25 and takes less than two hours to complete.
DIY Inspirations A Canopy Bed
A canopy bed is an intricately designed piece of art that provides a breath-taking experience to its onlookers. From customizing the color scheme and upholstery to choosing fabrics and materials – this bed gives you the right platform to unleash your inner designer. It makes your bedroom look like a royal place and proves to be a great way to add value to your home. Here are some ideas to try out if you are looking for some DIY inspiration to make a canopy bed.
Easy Tulle Canopy Tutorial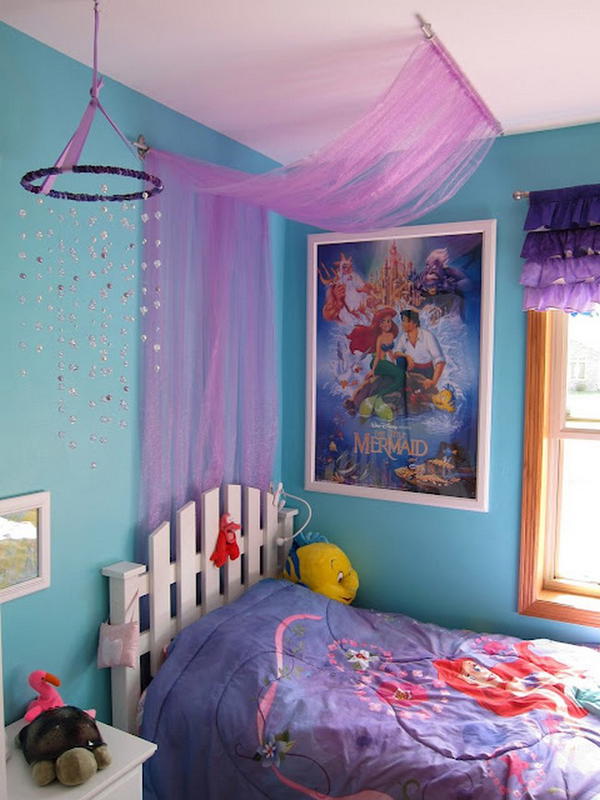 This DIY is really easy to follow! It will take you under 5 hours from start to finish, and you can use Tulle, which you can get for cheap at craft stores. Create a gorgeous, easy tulle canopy for any bed, just in time for spring. It's perfect for chaise lounges and outdoor seating since it can be easily removed when you're done. This tulle canopy is a great way to update a boring ceiling in your home. The canopy creates a romantic vibe that transforms any space into your masterpiece. With the right tools and materials, you can be on your way to having your own gorgeous DIY canopy.
DIY File Curtain Canopy Rod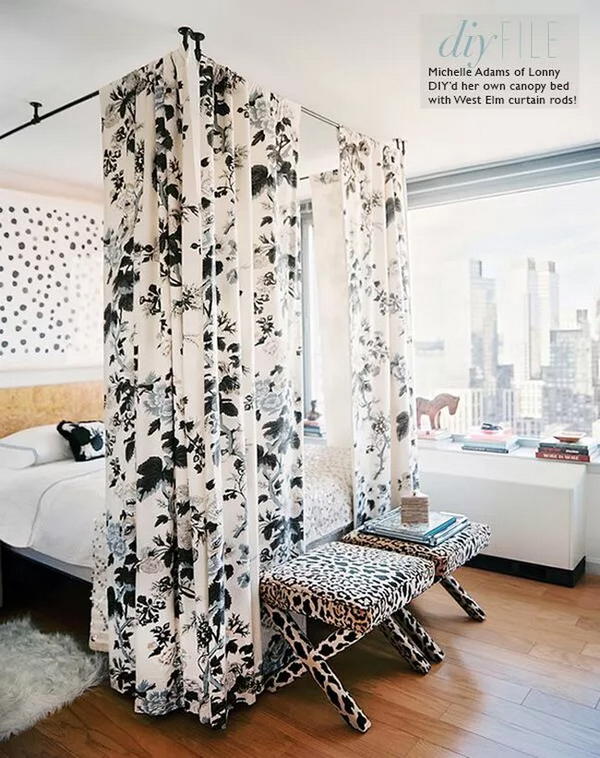 Transform your home with this super cute canopy bed. With some simple tools and materials, you'll be able to create a comfortable and stylish canopy for your bedroom. Add simple elegance to your bedroom with this DIY File Curtain Canopy Rod. The metal canopy is made of lightweight aluminum and is durable and easy to wipe clean for added convenience. And if you want to add some extra decor, it's also easy to hang a curtain over the rod!
DIY Bed Canopy Tutorial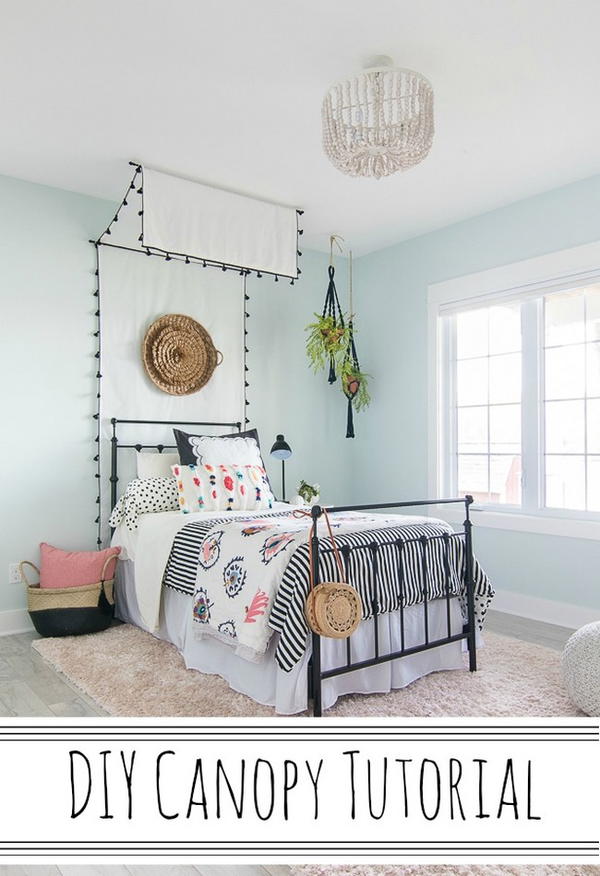 If you are looking for a beautiful, elegant canopy for your queen or king size bed then this is what you need. You will be surprised how easy it is and how much it elevates the room's look." Learn how to make a canopy curtain for your beds, couches or windows using this easy-to-follow pattern. This canopy bed DIY tutorial will show you how to make your own unique bed canopy using just a few simple materials. You'll be working to create the perfect addition to a new, custom bedroom!
Bedroom Canopy
A canopy bed can be an elegant focal point for your bedroom and create a cozy, romantic setting for the whole family to enjoy. Add a romantic touch to your bedroom with this easy DIY project. Build a canopy bed and create an inviting space to share with your loved one. Take a look at this DIY canopy bed. Its white curtains, lace panels and fluffy pillows make it a perfect space for a romantic retreat. The detailed steps of this project will help you create your own canopy bed.
See Other Projects