If you want to keep your doors locked and protected, you've got plenty of options! There are so many ways to secure your doors that it can take time to choose what's suitable for your space. Some of these DIY lock ideas are so simple that you can make them out of anything you have around the house, while other options require a little more work. Before you put in locks, think about your priorities and how much time and work you want to put into securing your door. Here are 12 DIY Door Lock Ideas to protect your doors from intruders.
Simple DIY Door Lock Ideas

It's a protective barrier between you and the world. It would be best if you had your door to be safe, whether hard at work or sleeping comfortably. But sometimes, even the most substantial doors can get holes and other problems over time. Open the door to creativity with these easy DIY door lock ideas. Many of the projects listed below use recycled materials and are perfect for those who like to live frugally. If you are looking for a way to make your home more secure, then some of these projects could be just what you've been looking for.
Benefits Of Easy DIY Door Lock Ideas
DIY Door Lock Ideas are becoming popular these days. People choose to do it themselves rather than hire a professional or pay for an expensive lock. Many benefits of DIY Door Lock Ideas have made them so popular. Here are some of them:
You can save money when you do it yourself.
You can customize your lock, including the color and material used. This gives you more freedom in design and style than if you hired someone else to do the job for you.
It is fun! When you work on something like this, there is no need for stress or worry because all you need to do is follow the instructions provided by experts online or in books about how to make these locks for yourself at home with tools that are easy to find around town (or even online).
Barn Door Locks Homemade Build
You can take your barn door to the next level by installing a lock. Building a DIY barn door lock is a simple project at home. All you need is a few essential tools and a couple of hours of your time. The simple DIY Barn Door Locks Homemade Build is the perfect project for anyone looking to make some noise on their homestead. Make in any size and color decor, the best part of the barn door lock is that it requires very little power. Anyone can do it!
Genius DIY Door Latch
You can't rely on your door just staying locked when you want it to. You may need to lock the door behind you when you go out. When you come home again and leave the door open, it could be unlocked several hours later in case someone needs to sneak in or grab something while they're there. Fortunately, a DIY latch lets you keep your door locked. You can create this do-it-yourself door latch for around $25, which substantially saves over the $150 that Apple charges for the official edition. Plus, it will only take you about an hour from start to finish.
Homemade Portable Door Lock
Keeping your home and possessions safe is always important. However, sometimes we could end up in situations where we need access to a lock and key. This portable door lock allows you to gain quick access from anywhere using a remote control attached to the keys on your keychain! Though definitely not the most secure, this DIY lock can keep your doors locked and secure. You can make a portable lock with items you already have at home or buy cheap ones in stores. This DIY door lock is perfect for a dorm room or even one of those places where you work in the big city.
Dinner Fork Door Lock
This Dinner Fork Door Lock is a fun way to lock your front door when you're home alone. The lock is easy enough for anyone to use but compelling enough that people will have difficulty getting in. Lock the door in style with this quick and easy DIY project. This is a great way to reuse old forks that you may have lying around. This Door Lock is for when you don't have a key or when you need to freak someone out and make it look like there are scary ghosts in your house. Also, use it as an excuse not to come into your room because you're too busy.
How To Make A Homemade Door Lock
Locks are a great way to add extra security to your home. They are also a great way to stop people from coming in when you are away and having access to your belongings. They can save you time and money because locks will keep unwanted visitors out of the house and away from damaging items that belong to you. This project teaches you everything you need to know about how to make a lock for your door. When it comes to DIY projects, this is one of the easiest and most popular ones. You can do it yourself with just a few tools and some basic materials.
How To Make A DIY Remote-Controlled Door Lock
This step-by-step tutorial shows how to make a DIY remote-controlled lock for an external door. Learn how to create your own, didactically, with easy-to-follow instructions so that you can access your home from the outside without a key. Unlocking the door from miles away is as easy as installing new batteries! This project uses essential electronic components that can be purchased at many electronics stores, making it an inexpensive and fun DIY project.
How To Lock A Door By Modifying A Dinner Fork
Having the ability to lock a door is a great way to keep unwanted guests out. You can modify a dinner fork to fit over the doorknob of an empty closet or storage space. Another option is to place the fork inside a door that can be used as an emergency exit or shelter in case of fire, earthquake or other disasters. You can also use this trick for locking rooms upstairs to keep younger children from being able to access them without adult supervision.
Lock A Door Without A Lock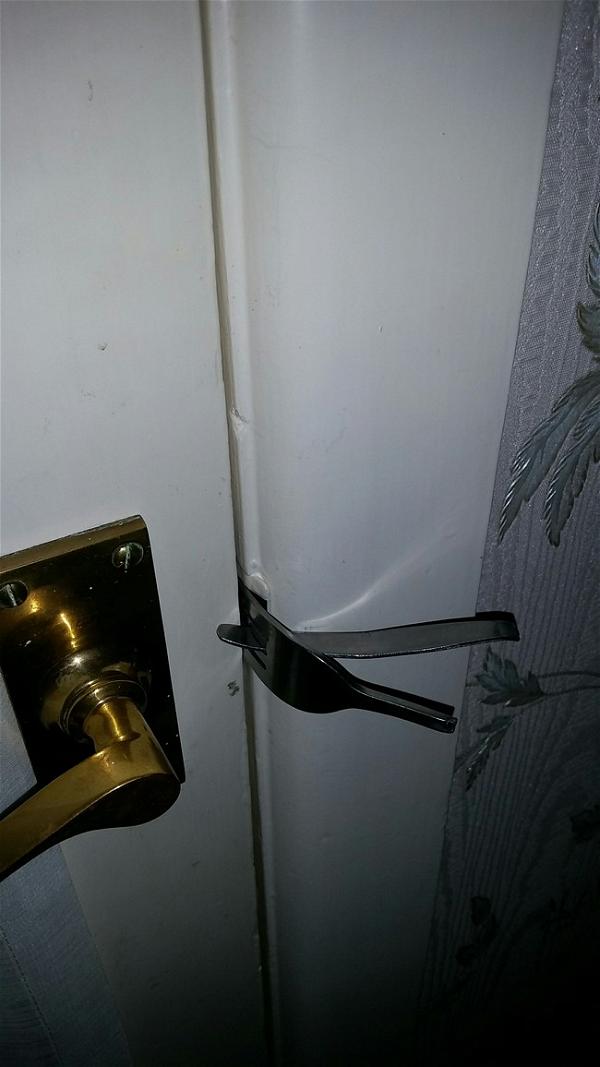 Keep your home secure with this DIY lock! The Door Lock is a simple device that allows you to keep people out of rooms in your home by simply locking the door handle or attaching it to any flat surface. With this tool, you can avoid costly repairs and malicious intent from unwelcome guests. This lock doesn't look like it belongs above a door, but it will keep your home secure. Use the universal magnets this project outlined to permanently or temporarily secure the door. You'll have a functional magnetic lock without drilling holes in anything.
DIY Hotel Door Lock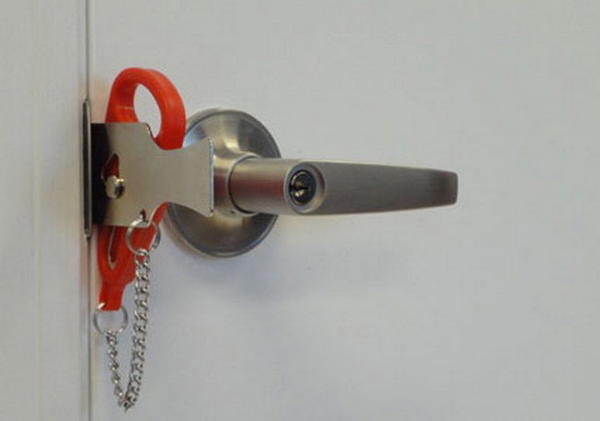 This easy-to-do project is a quick and clever way of keeping a hotel/apartment door from being opened. It can also be used on drawers and cupboards but can be easily removed from a door if someone needs to get inside. The great thing about this lock is that it uses a personalized lock code, so no one other than you knows what the combination is. Simple and easy way to make a hotel door lock. This mechanism can be attached to any door and is enough to drill two holes in the door and insert metal bars. The mechanism only allows you to open and close the door with one hand.
DIY Magnetic Lock
The DIY Magnetic Lock adds an extra layer of security to any door. Its strong magnets will hold heavy doors firmly together, making it impossible for an intruder to push the door open. The DIY Magnetic Lock is made from a deadbolt, a strong magnet and a piece of wood. Attach the magnet to the bottom of the wooden board, and then fasten the deadbolt to it. The hard part will be finding a way to lock your door from the outside so you can leave your house with a great life hack.
You can also see: DIY Wooden Gate Plans And DIY Candle Holder Ideas
DIY No Sew Door Latch Cover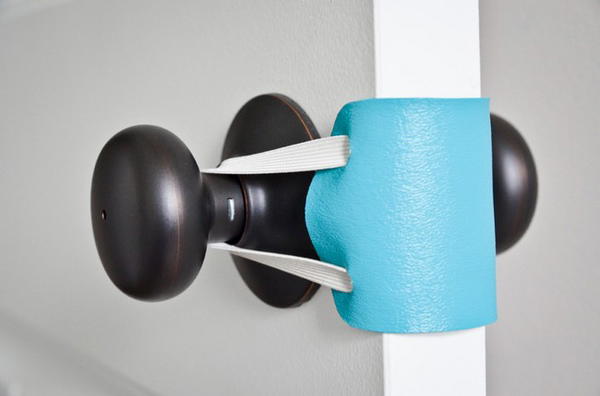 Take the guesswork out of DIY lock replacements and create a no-sew latch cover for your home. This tutorial will show you how to make a sturdy, functional DIY lock from scratch without any sewing or knots required. Maximize your security by replacing the door latch cover with a DIY no sew door latch cover. It will look like it was professionally installed and is super easy to install. This DIY door latch cover is easy to make, the materials are cheap, and it works like a charm.
DIY Door Latch Covers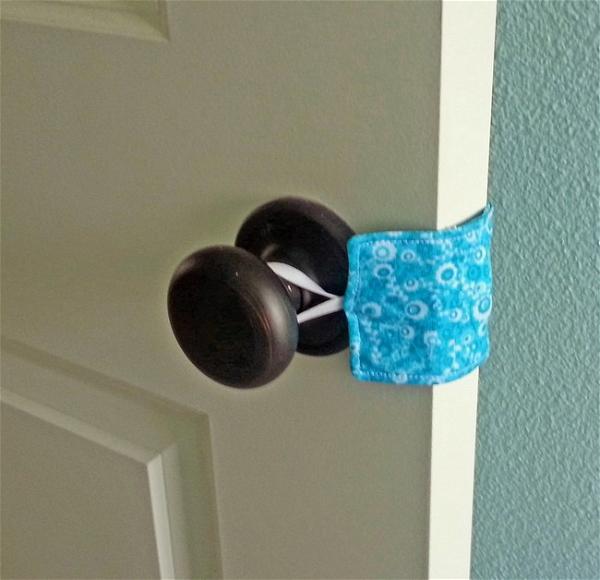 Add a little rustic charm to your front door with these. It's a super-simple project that only takes about 5 minutes, but it can transform the look of your exterior! This door latch covers are straightforward and look great on any door. They prevent an intruder from slipping a credit card or a complex instrument between the door and the jamb and pushing the latch up to unlock it. They also protect against an axe or hammer blow which could knock out your entire lock assembly.