Imagine the look on your child's face when they see a handmade wooden go-kart cart pulled up in their driveway. A homemade go-kart is something they'll cherish for years to come. Get your kids outside! This summer, why not build your own wooden go-kart to teach them the joy of building and racing? You'll be saving money, as these builds are all DIY. The kids will have a blast, too. Now you can make that dream a reality without breaking the bank with these 12 DIY wooden go Kart plans you can build today.
DIY Wooden Go Kart Plans
What is it about Go Karts that makes us so happy? Is it because they will take you back to a simpler time, one where the most important thing was coming up with the perfect design and building a kart out of scrap parts? Perhaps. Or maybe it's because they are SO fun to drive! Whatever the reason, you can build your own Go Kart from scratch without having to go out and buy a bunch of parts. Are you looking for plans to build a go-kart? Here is a collection of 12 free DIY go-kart plans for you. Go-karts can be fun for people of all ages and sizes!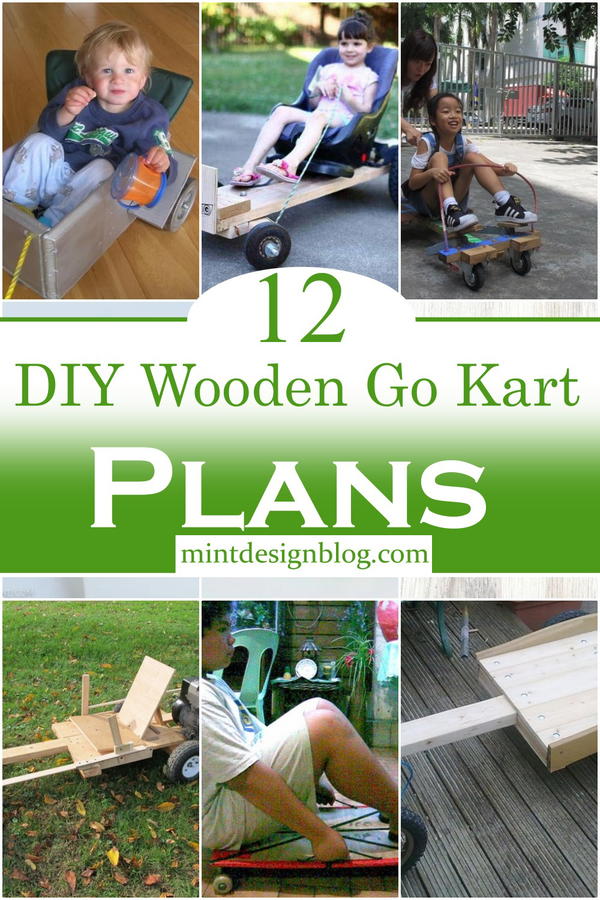 Old Fashioned Go Kart Plan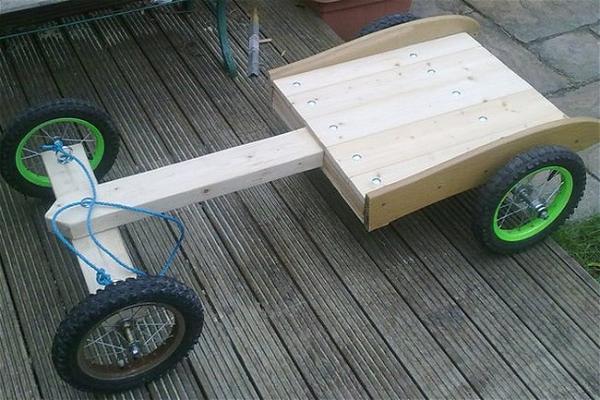 If you love building stuff with your kids, especially projects that build character and make-believe, then you'll enjoy these go-kart plans. They are simple and sturdy, designed for a child's weight, and can be made with common tools and materials. The design is relatively basic, but with a bit of creativity, you can customize it according to your preferences. This would be an easy build for anyone able to weld up a few pieces of steel. A reliable build for beginning wheelers, made more valuable by being easy on the eyes as well. Inexpensive, sturdy, and fun to ride, these bogie kart plans are another ingenious use of household objects.  Pirate bike wheels from kids ' outgrown bicycles and make this simple, old-fashioned bogie kart. Go ahead – turn your living room into the race track!
Materials: Wheels from two small bikes, Wheels from two small bikes, 10 cm x 4 cm slats from a garden fence, Extra wood for the sides, Steel, Carriage bolts with nuts and washers, 2 eye bolts, Length of rope
Tools Needed: Welder, Clamps, Drill, Saw
Skateboard Style DIY Wooden Go Kart Plan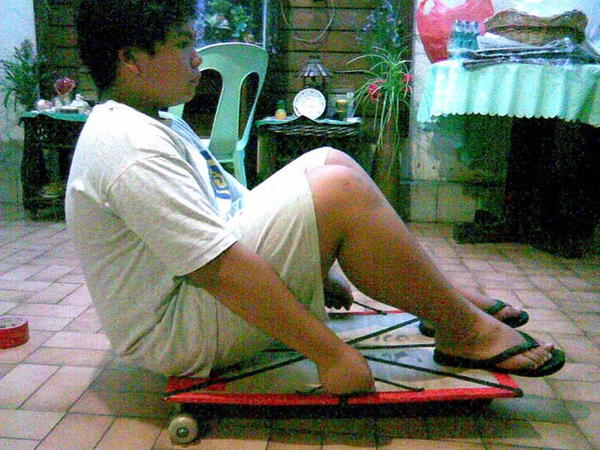 Perfect for the budding young mechanic, this futuristic go-cart features a skateboard-inspired design and is easy to build. Just add wood glue to assemble a durable frame, seat, wheels and you're ready for a day of fun in the sun. This little sled on wheels is easy to build and dirt cheap to boot. Gather all your tools, skates, and bike, then head to the backyard for an afternoon of fun with this wooden Go-Kart. This DIY kit includes all the screws and parts necessary to build this interesting project, plus easy-to-follow instructions that allow you to create a unique wooden Go-Kart in no time. The assembled kart is a great toy for ages 5 and up.
Materials: Plywood or board, Durable rope, Screws, Nails, 3 sets of skateboard wheels (1 wide, 2 narrow)
Tools Needed: Hammer, Screwdriver
You can also see: DIY Skateboard Rack Plans 
Car Seat DIY Plan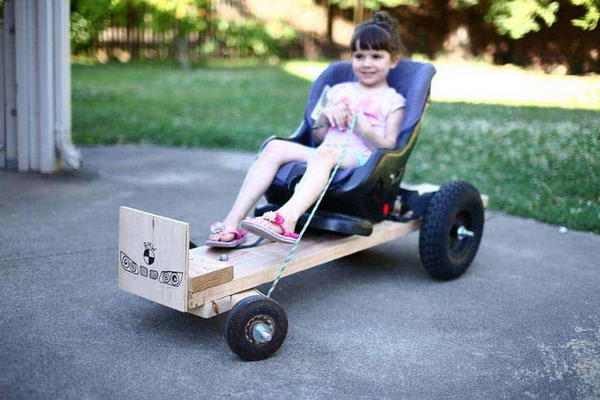 There are so many options out there for go-karts, but sometimes you just want to make your own. If you have the right tools, this project should be easy to complete over a weekend. Take a look through the rest of our site and find inspiration for other projects you can make with items around your house. With this plan, you can make an adventure out of just about anything – with a car seat go-kart. You will need a set of screwdrivers and some spare pipes and hangers around the house. It's no secret that kids love to ride in a car seat. The red little number you see above is actually a simple homemade go-kart built out of an old car seat. This is one of the coolest DIY builds you're going to see, and it will keep the younger kids in your life happy for hours!
Materials: (2) 2x6x8′, (1) 2x4x8′, (1) 11″x8″- ½″ plywood, 1⅝" and ½″ wood screws, 4 wheels, (2) ⅝″ threaded rods, Nuts, and washers, (1) 4″ Bolt, Car Seat, Rope
Tools Needed: Drill, Miter saw, Tape measure, Sawzall
Little Car DIY Wooden Go Kart Plan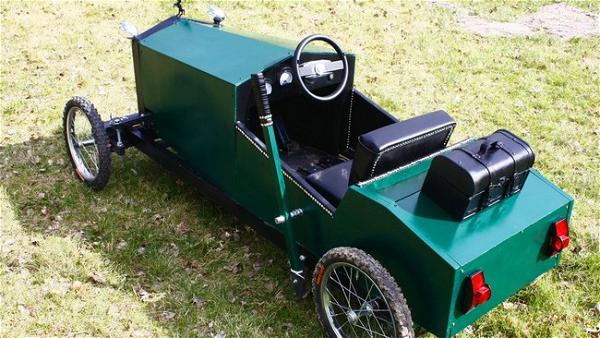 This is not a toy. It is a beautiful and authentic Go Kart that you can build yourself, indoors. The kit comes with all the wood parts ready to assemble and looks so much better than a prefabricated plastic go-kart. This little car will be a treasured heirloom toy that will last a generation or more, with proper care. Making a car for your kids has never been easier. Get the complete plans for building this DIY go-kart kit made completely from wood and steel. These plans will show you how to build a go-kart with the original look of a classic jalopy car from your childhood. The material list contains all the required materials and some tips to help make sure you get the right materials for your project.
Materials: Wood (pine), Bicycle wheels, Electric engine with controller (optional), 12 batteries (optional), 2 long construction screws, Wood glues (polyurethane recommended), Nails, and screws
Tools Needed: Drill, Saw
Colorful Racer DIY Plan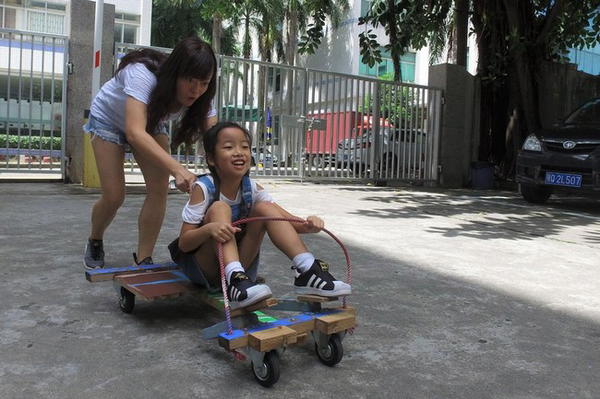 Its colorful design will certainly stand out on the street, and it's sure to be a conversation starter. You might have some of these supplies leftover from other projects, but even if not this is an inexpensive and easy build. These plans are less technical and diagramed but full of in-depth instruction and photos. Beginners may find it challenging, but it's a forgiving build that could be a fun project to do with the kids. So grab some crazy paint colors and go wild! You might have some of these supplies leftover from other projects, but even if not this is an inexpensive and easy build.
Materials: Pine 2x4s, 5 square meters of 2 cm or thicker plywood, 4 caster wheels, at least 10 cm diameter, (20) 3 to 3.5" wood screws, with washers, (6) 5" bolts, nuts, washers (1.5-2 cm thick)
Tools Needed: Paintbrush, Saw, Drill and bits, Ruler, Pencil, Pencil, Wrenches to fit bolts, Clamps
Baby DIY Go Kart Plan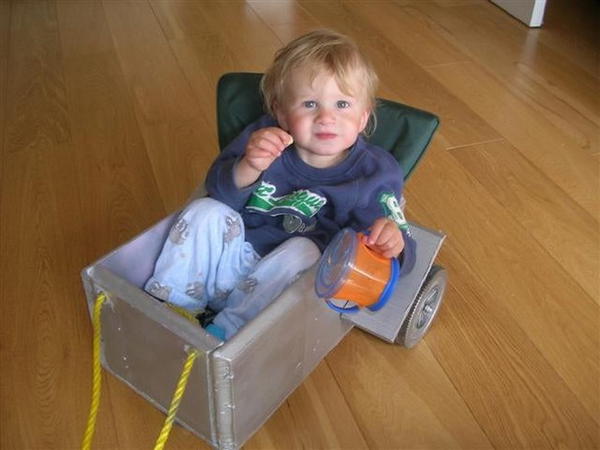 If you have a toddler/preschooler in your life and a drill, saw, screws, a screwdriver, and around an hour to kill, I think you should consider building them one of these. You can change it up to suit the skillset of your builder. You'll be using your existing skills and some inspiration to quickly construct a toddler go-kart that will draw bigger smiles.
Using what you have around the house and taking only 15 minutes, you can make this go-kart for your favorite little person who is one inch off the ground. And as long as they are tall enough to touch the bottom of the seat, this go-kart works great! Your toddler would be none the wiser that you hacked most of this go-kart together. The best part is that toddlers are always growing, so no matter how big they get they can continue to use this toddler go-kart box.
Materials: Plywood, MDF, etc., Wheels, Screws, Rope, Spray paint
Tools Needed: Drill, Hand saw, Pencil, Speed square, Tape
Homemade Wooden GoKart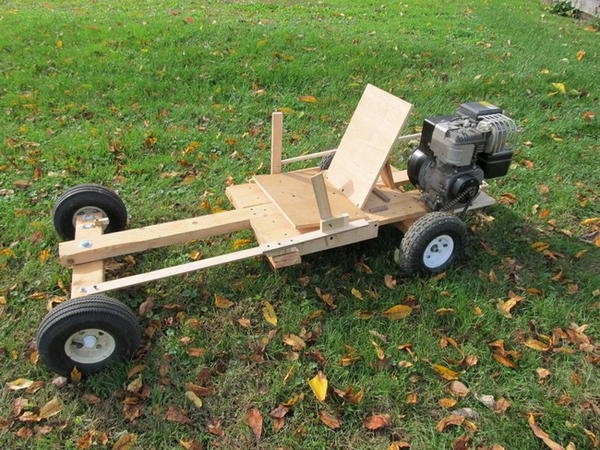 It's easy to make a homemade wooden go-kart. You can use an old lawnmower for the basis of this project, as long as it has both front and rear wheels. The design of the go-kart is fairly simple and requires only a few cuts (just remember safety first!). This little go-kart is the perfect project for grandparents and kids to enjoy together. Does building a go-kart sound like fun? Then this budget go-kart is just the project for you!
You can speed down hills, run over your little brother, or just display it in your house. The possibilities are endless! It's fun, it's easy to put together, and not too expensive. And don't worry about getting bored - when you're done with the go-kart, you can spice it up with crazy colors, or add a great theme like pirate or race car! This homemade wooden go-kart is perfect for anyone to build. It's easy to build, can fit a variety of age groups, and is fun to ride. This go-kart is perfect for running down the road, jumping over sidewalks, or racing your kid. You will love to go on family rides, but always make sure your little one is in a car!
Materials:(1) 10'- 2×4, 3 small non-swivel caster wheels, Construction screws, Wood screws, Carriage Bolt – 2½" x ¼", Nut – ¼"
Tools Needed: Drill, Sander, Chop saw
Homemade Wooden GoKart 2.0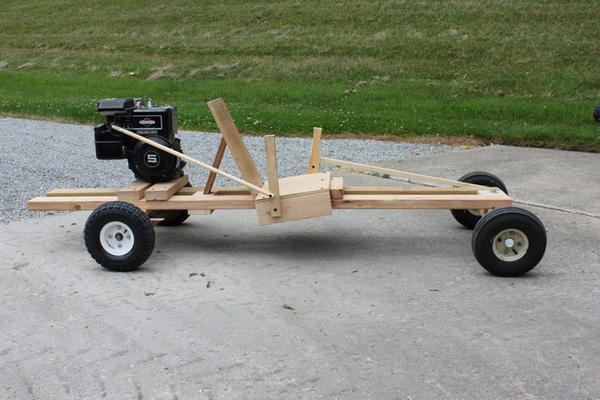 This wooden go-kart 2.0 is a kit with instructions on how to build your own vehicle. All of our designs are created to be user-friendly and make assembly easy for you. All it takes is some time, tools, and the willingness to have fun! You will be able to build a custom go-kart from supplied parts and materials. It can hold pounds so get your friends, family, or even your co-workers in on the fun. It comes with a steering wheel, brakes, and seat belts. Everything is included except the wood, screws, and some simple hand tools. All the parts are from a vehicle that has been unceremoniously sacrificed for a greater cause.
Materials:(1) 10'- 2×4, 3 small non-swivel caster wheels, Construction screws, Wood screws, Carriage Bolt – 2½" x ¼", Nut – ¼"
Tools Needed: Drill, Sander, Chop saw
Building A Wooden Electric Go-kart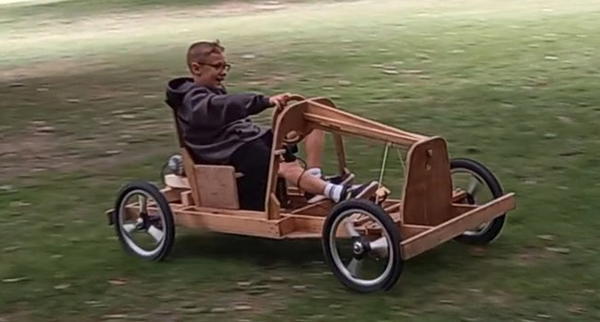 If you've ever wanted to build a go-kart, here's your chance. This book takes you step-by-step through the building project with all the information you need. It covers the tools, materials, and electrical components needed. Wooden Electric Go-kart Building Plans How to build an electric go-kart in your own garage. Still, want to get the kids outside? Here's a project that generates excitement and saves money in the process. Woodworking has the power to open up a whole new world to children of all ages, making woodworking fun and interesting. Offering a complex project, this go-kart will demand the creativity and inventiveness of your children.
Materials:(1) 10'- 2×4, 3 small non-swivel caster wheels, Construction screws, Wood screws, Carriage Bolt – 2½" x ¼", Nut – ¼"
Tools Needed: Drill, Sander, Chop saw
DIY Formula 1 Go Kart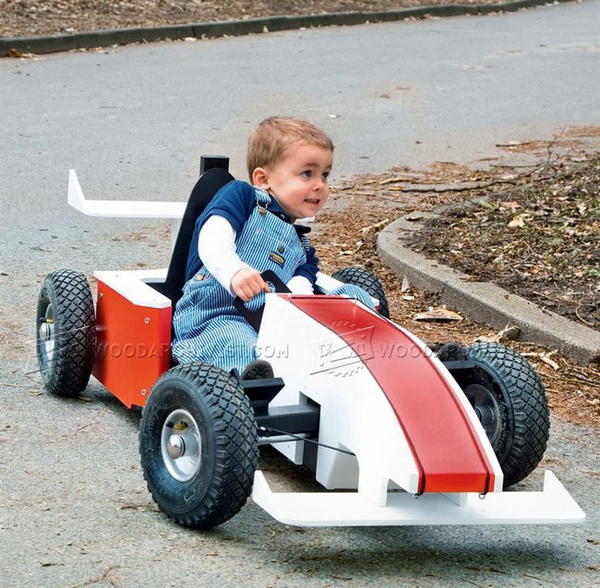 This project is a great introduction to building things with power tools, and a fun project for brothers, sisters, parents, and kids to work on together. It's the perfect way to spend a weekend afternoon in the garage, working together as a family. Most people have never imagined that it is possible to convert a wooden go-kart into an electric-powered one. Well, there are those who think that it is achievable, and you can too if you have the right guides and information. This project will take some time to complete and it is expensive, so be warned that this DIY project isn't for everyone. Kids and adults alike will enjoy this sturdy wooden electric go-kart designed to be safe, simple, and speedy. The kart is built using steel hardware, birch and ash lumber, extra-large wheels, and a powerful electric motor.
Materials:(1) 10'- 2×4, 3 small non-swivel caster wheels, Construction screws, Wood screws, Carriage Bolt – 2½" x ¼", Nut – ¼"
Tools Needed: Drill, Sander, Chop saw
Downhill DIY Wooden Go Kart Plan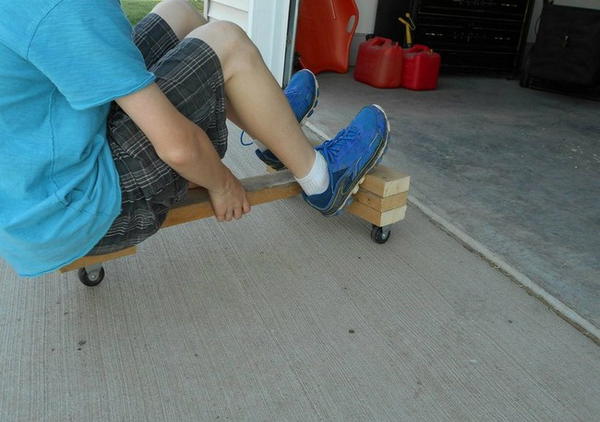 Ever wanted a go-kart and just didn't have the money or space to buy one? Or maybe you have a knack for backyard engineering? This DIY go-kart is easy and fun to build. This DIY Downhill Go-Kart is the hit of any picnic, carnival, or family fun day. The sheer joy this go-kart generates is infectious and will leave your children begging for more rides. The downhill go-kart is a natural progression from your child's first experience with a pedal bike. It's time to transfer the pedal power to the wheels and see how fast they can really go!
Materials:(1) 10'- 2×4, 3 small non-swivel caster wheels, Construction screws, Wood screws, Carriage Bolt – 2½" x ¼", Nut – ¼"
Tools Needed:Drill, Sander, Chop saw
Simple DIY Wooden Go Kart Plan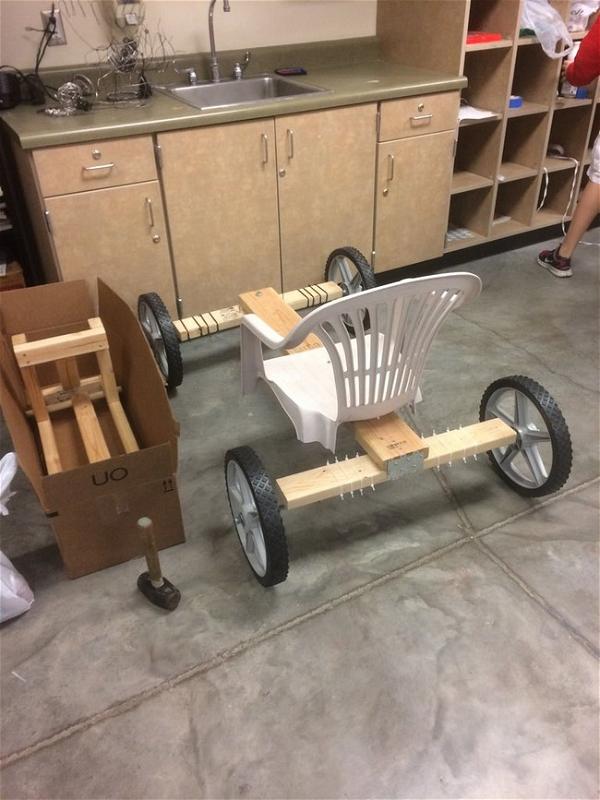 A seat repurposed from a plastic lawn chair, wheels made out of water pipes, a steering wheel with a wooden base, and a rubber wheel – this Go Kart is pieced together from odds and ends to create something awesome. If you're up for the challenge, follow this simple DIY Wooden Go Kart plan to make your very own wacky racer! Since these are not professional plans and we want you to be safe, call an adult before getting started. . For older kids, consider using a lawn chair seat for advanced comfort! What's great about this simple go-kart design is that it can be built with just a few tools and very little time. This build is sure to impress anyone and provide countless hours of fun for the whole family.
Materials: 4 wagon wheels, 100 Zipties, 4 eyehooks, Rope, 2 threaded rods able to support (100 lbs.) each, Washers, locknuts, nuts, screws, (2) 2×4 planks, (1) 2×6 planks, 1 screw plate, 1 lawn chair
Tools Needed: Drill, Wrench, Saw
See Other Projects