A Murphy bed is a wall bed that folds into the wall, allowing more space in your home. It's an excellent solution for those who live in small apartments or houses or are always hosting companies. This bed is also perfect for homes with children, pets, or anyone needing maximum storage space. Here are some DIY ideas to help you make your own Murphy bed. They're a great space saver and incredibly elegant, especially when you get creative with folding the bed. Whether you're looking for a bedroom DIY project with a touch of elegance, or something truly unique, these 14 DIY Murphy Bed Ideas will inspire you to create something uniquely your own.
Creative DIY Murphy Bed Ideas

A Murphy bed is a graceful, space-saving solution to your small bedroom woes. But don't mistake a Murphy bed for an extra cushion you store under your sofa. A good one requires some craftsmanship and know-how, so we compiled 14 DIY Murphy Bed Ideas that are perfect for home stagers, designers and others who need their space to look stylishly function. Decorate your room with these DIY Murphy Bed Ideas. The best part is, you can make them yourself! These ideas are perfect for building a new bed or adding more space to their home.
Benefits Of DIY Murphy Bed Ideas
DIY Murphy bed ideas are a great way to save space, but they can also help you save money. Here are some of the benefits that come with having one:
They're Easy To Install: You don't need special tools or skills to install a DIY Murphy bed. All you need is a screwdriver and some patience!
They Save You Money: The average cost of buying a Murphy bed is $700-$1,000, but if you make it yourself, it will only cost you around $200-$300 to make one! That's a tremendous saving in comparison!
They Create More Space: If you have limited space in your home for furniture or other items, this is an excellent way to create more space for them without taking up too much room in your home.
DIY Wall Bed For Under $150
Complete your dream home on the cheap with this DIY Murphy Bed Kit. It uses 2×4 lumber, which you'll have to buy yourself, but it stores easily and won't cost you more than $150. Create a wall bed that folds against the wall to have more space. This tutorial shows how to build a bed that slides up and down on smooth tracks using a basic three-rail system. The bed can be customized in various ways, but this design is simple enough for anyone to build without much previous experience.
DIY Murphy Bed Build
You must check out our DIY Murphy Bed design to add significant style and function to your bedroom. The bed folds away when not in use, so it's perfect for small bedrooms, and guests can even have their own room without taking up any floor space. From the outside, this Murphy Bed looks like a giant wall cabinet with sliding doors. But when you open them, you'll find a comfy new place to sleep. This easy kit includes all the hardware and materials you need to install your DIY Murphy Bed in minutes - including three wooden support rails, an interlocking baseboard, and wall system components.
How To Build A Murphy Bed
It's no secret that Murphy beds are a great way to maximize your space. Look around your home, and you're sure to spot one or two—from storage areas under the stairs to guest bedrooms; a Murphy bed is an excellent way to make the most of whatever room it's in. If you want a bed but don't know where to put it, then perhaps a Murphy bed is for you. They're built for storage and easy accessibility—allowing you to use that extra space for something else, like an office or play area when the bed is hidden.
You can also see: Creative DIY Kids Bed Plans 
DIY Modern Murphy Bed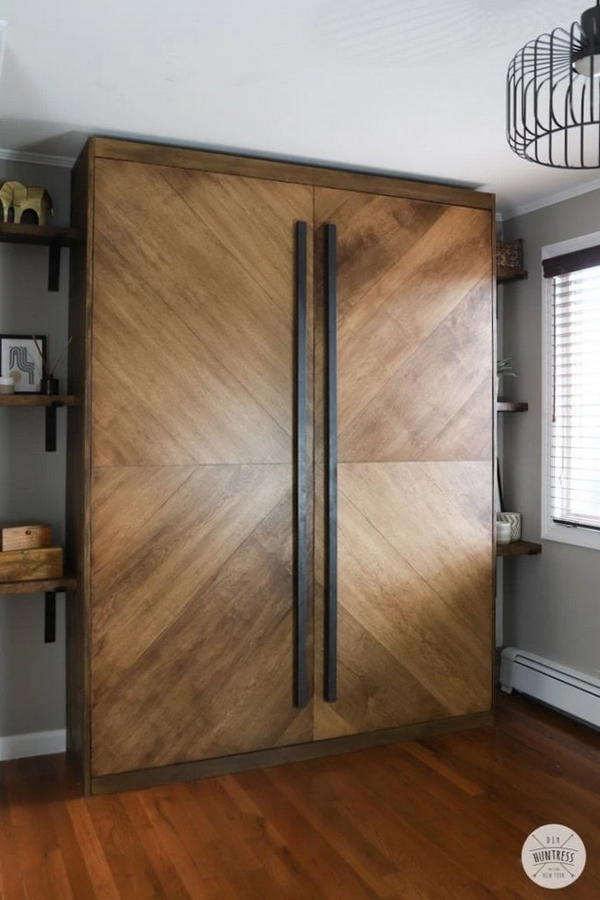 Looking for a stylish, modern solution to add extra space to your home? Then check out this DIY Modern Murphy Bed. Make the most of your space with this DIY Murphy bed. It's perfect for small spaces and takes up only a little floor space when unused. The easy-to-implement design does more than magically transform from a desk to a bed—it also adds functionality and helps create a cohesive look in your room. In just six steps, you'll be well on your way to enjoying the benefits of this functional and fashionable piece of furniture.
How To Build A DIY Modern Murphy Bed
This video will walk you through all the steps to build your own Murphy Bed. This bed is perfect if you want to add style and comfort to any space! It's quick to build, easy to install and requires no screws or special tools. The Murphy Bed DIY is a simple project that can take as little as six hours once you have all the tools and materials. It has a clean style and looks even better in rooms with high ceilings. The bed folds up into the wall when not in use.
DIY Murphy Bed And Bookcase
Make this DIY Murphy Bed And Bookcase in your home now. The bed is easy to install and can be folded up when not in use. Made from quality hardwood with a natural stain, the bookcase has four shelves for storing your books and other valuables. This stylish piece of furniture will look great in any room of your house! Create a bookcase that doubles as a Murphy bed in your home office or guest room. This DIY project involves measuring, cutting, sanding and painting to create a custom piece of furniture.
DIY Murphy Bed
Build a Murphy bed that tucks away so you can maximize your space. You'll be shocked by how easily it goes up and how comfortable it is to sleep in. This DIY Murphy Bed is a great space-saving solution that can be used as an in-home office, guest room, or playroom. You'll have plenty of room to sleep two people, and with the down-filled mattress, you will surely enjoy your sleep. This tutorial also includes detailed instructions for building a custom headboard and several tips for choosing the right fabrics for your room.
How To Build A Murphy Bed
If you have a storage space the size of a closet or large dresser and very little space, a Murphy bed is an amazing solution. Rather than give up floor space or living room seating, you can use unused closet space to put away your bed when not in use. Build your own Murphy Bed with this step-by-step guide. You'll learn how to assemble a custom bed, mount a headboard, and safely build your DIY hideaway bed that can be folded up against the wall when not in use. The best thing is that the construction of a Murphy bed allows you to assemble it yourself.
DIY Murphy Bed Plan
Make your home a place to lay your head with this DIY Murphy Bed Plan. The bed rolls up into the wall when unused, so it can easily be tucked away in any room or closet. Create your own custom Murphy bed with this DIY plan. This easy-to-follow guide is the perfect home project for anyone who wants a simple, straightforward solution. You'll save money and space by building your own Murphy bed, and you can customize it to fit your style or room.
How To Build An Easy, Cheap And Simple DIY Murphy Bed
Build the quintessential guest bed in your home and add some extra storage with the help of this easy DIY Murphy Bed project. This simple yet stylish design will be a great addition to any room! Creating a traditional full-size Murphy bed can cost hundreds or thousands of dollars. But this one is super affordable! This is a DIY guide for creating a simple and sturdy Murphy bed. The idea is that when you take it away, it hardly leaves any footprint on your room. This way, you can use your space as freely as possible because you don't need to keep moving the bed back into place whenever you want to use it!
DIY Murphy Bed For Under $150
Murphy beds have been around longer than you might think, but they're not just for condos and apartments anymore. This DIY Murphy bed is a fun way to save space and maximize your square footage. You'll love this DIY Murphy Bed, not just because it makes your room look bigger but also because it is all-around one of the most useful pieces of furniture you can add to any room. The best part? It's so easy to build yourself!
How To Build Faux Dresser Murphy Bed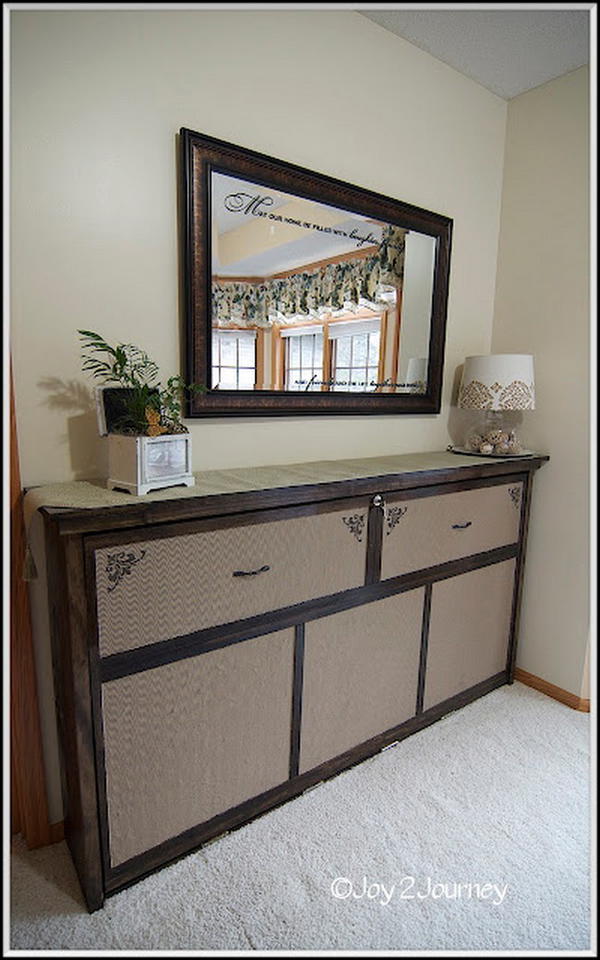 When you have a guest room with a super small footprint, there's no reason to waste the space. This DIY Murphy Bed will help you maximize your precious square feet—so you can enjoy more time in the bigger rooms. The ultimate combination of utility and style, the DIY Murphy Bed is a wonderful addition to any child's room. Complete with a side table, bookcase, and shelf space, and this bed has everything you need in one compact package.
Rustic Queen Sized Wall Bed
This DIY Rustic Queen-Sized Murphy Bed is a cost-effective solution to add more space and functionality to your home. It's a great place to sleep, store books, or keep toys out of the way. The front panel folds into a wall when not in use, keeping it out of view and opening up the room. This is a quick and easy DIY Queen size Murphy Bed made from 2×4's, plywood board and a sheet of MDF. Install it in about an hour or less and save $$$ by using recycled materials. Easily store items with the hidden opening of this wall bed that even folds up into the wall when not in use!
DIY Murphy Bed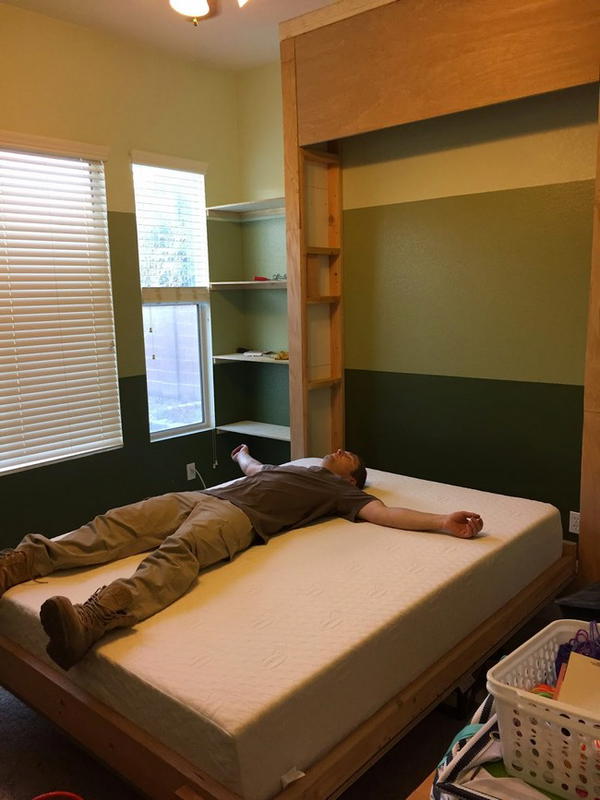 Dress up your guest room in style with a DIY Murphy bed. This DIY Murphy bed is easy to make and is a budget-friendly way to add extra space to your home. Make the most of your space by building a Murphy bed designed to fold into the wall when not in use. This furniture piece will be easy to build, customized to your specific needs, and help you maximize your space! It will free up floor space in your room and provide added functionality. Making this DIY Murphy Bed is something anyone can do if they have basic carpentry skills and a little guidance.
The Murphy Bed Is Almost Done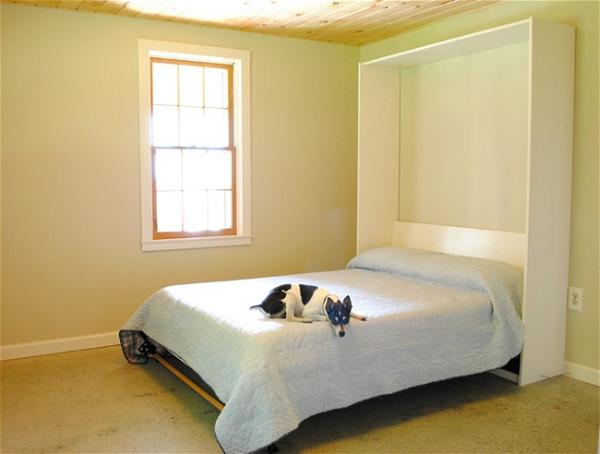 The Murphy bed is an excellent way to save space without sacrificing essential living areas. Constructed in just two days, this DIY project has everything you need to add extra sleeping space in a pinch. This is the perfect solution for doubling your space and storing odds and ends. The DIY Murphy Bed Is Almost Done is the solution to cramped spaces. Turn the extra room into a guest room by pushing up the bed hidden in the wall. The bed can be tailored to fit whatever size you want, making it a great option for any home.